No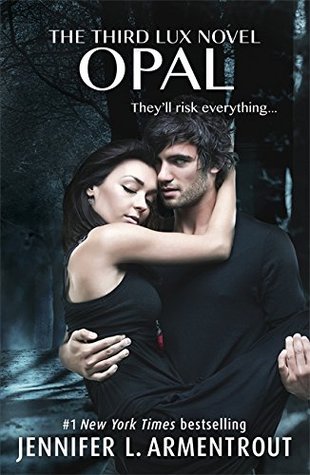 one is like Daemon Black.
When he set out to prove his feelings for me, he wasn't fooling around. Doubting him isn't something I'll do again, and now that we've made it through the rough patches, well… There's a lot of spontaneous combustion going on.
But even he can't protect his family from the danger of trying to free those they love.
After everything, I'm no longer the same Katy. I'm different… And I'm not sure what that will mean in the end. When each step we take in discovering the truth puts us in the path of the secret organization responsible for torturing and testing hybrids, the more I realize there is no end to what I'm capable of. The death of someone close still lingers, help comes from the most unlikely source, and friends will become the deadliest of enemies, but we won't turn back. Even if the outcome will shatter our worlds forever.
Together we're stronger… and they know it.

Holy alien babies. Hold on tight guys – Opal is one hell of a ride!
Authors are basically medieval torturers. They have absolutely no problem with wrenching out our loyal little hearts before crushing them into dust. I'm getting flashes of the Evil Queen ripping out the hearts of her unfortunate victims in Once Upon A Time. No joke. This is one that will leave you screaming why?!?!? and left desperate for the next installment. This ending is just pure evil but I loved every single second of it. Jennifer L. Armentrout's Lux Series is one that just keeps getting better and better with each book. Seriously – the emotions keep coming, the revelations piled up and sizzling tension drawn out until it's dramatic,shocking climax.  I thought Obsidian was brilliantly executed and Onyx was perfection but Opal was freaking epic. It leaves you with no words and a whole lot of feels. I mean if you still have yet to board the alien express get on it NOW – you are seriously missing out!
Opal begins just as Onyx ends – Adam is dead, Dawson is back and nothing is as it was before. Katy is also left altered after the deeds she performed to save her friends, finding herself drowning in guilt and travelling down a much darker path. On the up side, Katy and Daemon are finally together, although the universe isn't quiet through with them yet. Especially when Blake is issuing ultimatums and every step they take in finding Beth puts them on the path of the DOD or worse – the Daedalus. And these aren't their only problems. Help comes from the unexpected, friends turned to enemies with still the threat of being discovered hanging over their heads. As the web of lies thickens and trust is put to the test only one thing is certain: there's no turning back.
Much like the previous installment Onyx, Opal doesn't disappoint. Besides the nasty and frankly evil cliffhanger ending, Opal is tightly packed with intense action, dangerous revelations, freaky mafia kids and even more mutants. Yet, amidst all this we've still got those tender, light hearted moments that just melt your heart and Katy and Daemon's fantastic banter. I am also so happy to announce that Daemon still calls Blake every name imaginable starting with B other than Blake. Bob, Bill, Biff, Bart, Bilbo – you name it, he's said it because as daemon says "he's whatever he decides to call him". This constant joke had me doubled over in laughter evoking quite a few looks. This series is hilarious, it's witty, humorous writing refusing to let up for a moment keeping us all invested and on our toes. Much like the previous books, Opal still brings plenty of snarky remarks that are worth storing away  (let me tell you I'm totally using "Oh, dear God and baby Jesus in the manger, my eyes!" at some point) keeping these books on my top 10 list.
Opal presents us with much changed characters. After the events in both Obsidian and Onyx no one is the same. Our much loved aliens have all taken a much darker path with Opal exploring darker themes such as depression and guilt. No one is exempt from this theme, everyone dealing with the past events in their unique way. We have Katy who has grown into such a strong character and I admire her so much. Still our beloved book nerd with her flaws (her stubbornness and insecure tendencies are still getting her into trouble) she has developed so much. No longer plain human with her alien mojo going on, Katy is dealing with the quilt from Onyx's fallout, realizing that the lines between good and evil are blurred and desperate people do desperate things. Then we have Dee. Awww Dee… I miss my bubbly bestie. After everything that's happened Dee has changed a lot. And this is not always for the better. Dee has lost her other half and is still coming to terms with the chain reaction that lead to Adam's death. She is cold and hard, no longer the innocent girl we came to know in Obsidian. She's deadly with a thirst for revenge.
On the other side of Katy and Dee we have the boys. Or, better yet, Daemon. Cue swoon. Seriously this boy just keeps getting yummier and yummier. As in holy alien babies yummy! This time round Katy and Daemon are a couple giving us a glimpse into yet another side of the mystery that is Daemon Black. This Daemon is open and tender though still the asshat that we all love. He shows that when not being all alien bad ass he can also be vulnerable, utterly romantic and even (yes!) jealous. Opal also doesn't skimp of that fantastic sexual tension that we all adore. Katy and Daemon are just pure magic together and make up one of my favorite YA couples ever. Also keep an eye out for some seriously delicious and steamy scenes. Yes, you read that right – Katy and Daemon finally get down to business in this one. Cue fangirl. Then we have Blake. Urh – Blake. You seriously need a good dose of major ass kicking man! Seriously this is one character I can't freaking stand. When he's not either being majorly creeping and stalker-like he's plotting, creeping me out, creeping Katy out or just being annoying. All I can say after reading this book is I totally should have seen him coming.
Now my review wouldn't be complete without talking about that jaw dropping ending. Don't worry – I promise I won't spoil anything! That ending was, as mentioned FREAKING EVIL! It left me frantically checking the pages for more. I mean that couldn't be it, right? RIGHT? There's more! There's got to be more! Obviously my book was faulty. I was in major denial. The ending completely tore my soul to shreds, leaving me in tears. It was heart wrenching, intense and devastating. Jennifer! How could you tear my heart out so? Why? Why! – This is what I was like after turning that final page. There were no words, I just sat there for a moment trying to process what I had just read. I couldn't even write my review for over 10 hours because I just couldn't put my very raw emotions into words. All I can say is thank the luxen I already have Origin on my shelf and all ready to read. My heart goes out to all of you who had to wait a year for closure.
If I still have yet to convince you to pick up this series than I am a terrible blogger. Really, I should just pack up and move out right now because this is seriously my newest addiction and it should be yours too. Apart from it's thrilling, totally swoon worthy characters and it's compelling plot this is a series that's well written and just down right A-MA-ZING. This is a world I love living in and when I'm not immersing myself within it's pages I'm missing the gang and constantly obsessing over the hotness that is Daemon Black. All I can say is that when I move in a few weeks time my new neighbor better be as nonintoxicating amazing as he! 5 stars for another incredible read.