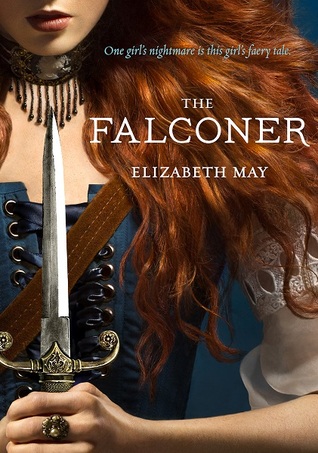 One girl's nightmare is this girl's faery tale
Edinburgh, 1844. Eighteen-year-old Lady Aileana Kameron, the only daughter of the Marquess of Douglas, has everything a girl could dream of: brains, charm, wealth, a title—and drop-dead beauty. But Aileana only looks the part of an aristocratic young lady. she's leading a double life: She has a rare ability to sense the sìthíchean—the faery race obsessed with slaughtering humans—and, with the aid of a mysterious mentor, has spent the year since her mother died learning how to kill them. Now Aileana is dedicated to slaying the fae before they take innocent lives. With her knack for inventing ingenious tools and weapons—from flying machines to detonators to lightning pistols—ruthless Aileana has one goal: Destroy the faery who destroyed her mother.
She's a Falconer.
The last in a line of female warriors born with a gift for hunting and killing the fae, Aileana is the sole hope of preventing a powerful faery population from massacring all of humanity. Suddenly, her quest is a lot more complicated. She still longs to avenge her mother's murder—but she'll have to save the world first.
The first volume of a trilogy from an exciting new voice in young adult fantasy, this electrifying thriller combines romance and action, steampunk technology and Scottish lore in a deliciously addictive read.

'The Falconer' has quickly become one of my top 5 favorite reads of 2016. I adored this book – it had everything I wanted from it's glossy pages and more. The immerse story world that May so expertly crafted was just so riveting, so unique. 'The Falconer' was the book I'd been searching for, my soulmate. If you loved Cassandra Clare's 'Infernal Devices' or 'Pride Prejudice and Zombies' and wanted more (more romance, more fae, more steampunk inventions, more badassery and more dashing men) than this is the very book for you.
The Falconer has expertly weaved Historical Fiction with Fantastical elements and Steampunk. This. Book. Seriously. Has. Everything. It's sweeping prose is reminiscent of Jane Austen, pulling you so completely into the world of Edinburgh, 1844 and the nineteenth century. This book just feels like a classic, evoking that whimsical feel with its characters (Derrick, I'm looking at you) all the while embodying that of the modern world with our fierce heroine. 'The Falconer' takes us into the lavish world of the debutantes, giving us first class access to strolls through the park, balls, assembles and tea parties among the deadly, bloodstained battles raged between the streets of Edinburgh. It's through these battles and more in which the Steampunk elements come to
play. Here we are given electricity, contraptions, weaponry and helicopters like that of Leonardo da Vinci which work to illuminate the distinction between Historical 1844 and that of May's crafted fantastical universe.
Aileana Kameron or "Kam" is our falconer though she doesn't know it – yet. She's a female warrior born to slay the dark, blood thirsty fae and she's the last of her line. Driven almost extinct by the sìthíchean the falconers, and the allies they're named for are a dead race. Aileana, once a pretty debutante is as blood thirsty as the fae she slays – left with an incurable lust for violence, she dedicates her life to ridding the world of the fae to seek vengeance for her mother's death. When not tinkering away with her contraptions and inventions, she's stabbing, shooting and maiming any member of the fae she can get her claws on. Aileana is by no means and damsel. Damnation no. She is a fierce protagonist, utterly disgusted by the role she is forced to assume in nineteenth century society. She wants to chose her own fate and will not be forced into the role of delicate house wife. Aileana, though a nineteenth century girl embodies our modern ideas. We relate to her, we feel her pain, her grief and we root for her.
Accompanying Aileana on her bloodstained journey to becoming a warrior are her sìthíchean guardians Kiaran and Derrick and man I adored them! Kiaran our most swoon worthy and dashing love interest brings an interesting dynamic to an already amazing book. His relationship with Aileana is not at all simple. She is a falconer, a mortal hell bent on destroying his race while he is a dangerous immortal. One who can not by any means be trusted. And yet – I fell hard. He is complex and layered, with so many unearthed secrets AND he's a total feminist. Can you say swoon?!? This is a guy who, despite the social inequalities of the era, treats Aileana like the badassed warrior she is. I can't wait to see which direction his character takes – there is just so much potential here! Then we have perhaps my favorite, the hilariously whimsical Derrick. Derrick is a honey obsessed, dress mending pixie. One who lives in Aileana's dressing room at that. He provides comedic relief and had me constantly in stitches. I loved his relationship with Kiaran and I
can't wait to delve deeper into their past. Derrick is such a cutey leaving me completely envious – where can I get me a pixie???
Now be warned – before you venture forth into the incredible rollar coaster ride of blood, romance and slow building love beware the shocking, devastating and soul crushing cliff hanger. Just when I was really feeling this book BAM! It ends and we're all left with a bunch of feels and frustrating emotions. (Some post-Falconer thoughts may include but are not limited to; "What?!?! WHY!" "No, no, NO! There must be more! *frantically searching pages* Ending? Where are you!?!?!" "Elizabeth May – I want BLOOD!" and even "No…. *cries hysterically*". BUT the good news is that 'The Vanishing Throne' – yes, the sequel is available! YAY! *Excuse me while I go and order a copy*.
So despite the rather ugly and soul crushing cliff that Elizabeth May willingly and might I say, selfishly (Sorry! Please don't tear out my heart – I still love you!) abandons us on, 'The Falconer' is still an excellent read. Fast paced and action packed, this ride is a must read. 5 shinning stars.