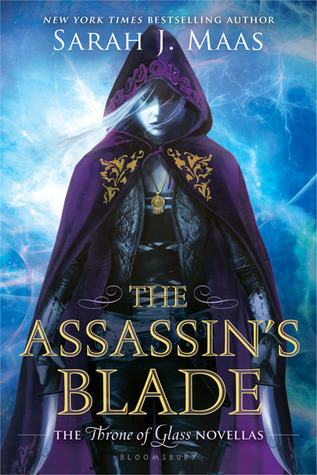 The Twist of A Knife. The Birth of A Legend…
Celaena Sardothien owes her reputation to Arobynn Hamel. He gave her a home at the Assassins' Guild and taught her the skills she needed to survive.
Arobynn's enemies stretch far and wide – from Adarlan's rooftops and its filthy dens, to remote islands and hostile deserts. Celaena is duty-bound to hunt them down. But behind her assignments lies a dark truth that will seal her fate – and cut her heart in two forever…
Explore the dark underworld of this kick-ass heroine and find out how the legend begins in the five page-turning prequel novellas to the New York Times bestselling Throne of Glass series.

Let me tell you a story…
It's a story about a place; a broken kingdom, shattered beyond repair. A kingdom of stunning vistas and deadly underbelly. A kingdom of tropical islands ruled by cunning pirate lords and sprawling deserts.
It's a story about a girl, one who would become a legend. A girl known to all as Adarlan's Assassin, who dared to rise above what she was – a girl who dared to dream. A girl who'd outwitted and bested a feared Pirate Lord and his entire kingdom, a girl who'd bargained for spider silk from the Stygian Spiders of the depths of the Ruhnn Mountains and stolen an Asterion Horse racing, flying faster than the wind across the sands of the Red Desert, a girl who dared to love.
'The Assassin's Blade' is a bind-up of five totally freaking kickass prequel novella's to the highly acclaimed and beloved 'Throne of Glass' series expertly crafted by the queen of fantasy herself, Sarah J. Maas. It reveals the heartbreaking story of Adarlan's Assassin, Celaena Sardothien – her rise as the most notorious assassin and, ultimately her heart wrenching, tear inducing downfall. Prepare the tissues, stuffed animals and comfort food guys – this is one painful journey with no end in sight.
But what is 'The Assassin's Blade'? Is it book one or is 'Throne of Glass'? Good question. 'The Assassin's Blade' is by no means the first book in the 'Throne of Glass' series however it does bring extensive and required insight to Celaena's character and the events prior to 'Throne of Glass'. Basically 'The Assassin's Blade' is required reading for any TOG fan if not for the incredible word building than for Sam sexy freaking ass Cortland. – Seriously, Dorian or Chaol or Rowan or Adeion? Nope – I'm choosing Sam Cortland bitches – .
So if 'The Assassin's Blade' isn't the first book when should I read it? Well that depends. Though I have just recently re-read this amazing edition to the series I initially read it before venturing forth into 'Throne of Glass' which I believe is the best way. In 'Throne of Glass' we are presented with a character who many see as arrogant, bitchy and selfish yet through 'The Assassin's Blade' we learn why Celaena is the way she is and how she was made that way. Like I said – these novella's are required reading. Sarah J. Maas herself has said that she looks at 'The Assassin's Blade' (which BTW I am now referring to as TAB – jesh) as book zero and prefers fans to read it first. So, TAB is the perfect starting point to the series in my opinion, it gives it's reader a taste for the immerse world and the characters/ races that occupy it. This way, once you embark on TOG and the rest of the incredible series you already know the world and it's rules and understand the references when characters or places from TAB stop by.
Through TAB, Sarah paints a canvas of vast lands and cultures. Beginning with coastal towns reminiscent of Pirates of the Caribbean, we are taken to Skull's Bay to tackle Rolfe the feared Pirate Lord in 'The Assassin and the Pirate Lord'. Next we depart the remote island to dark taverns loitered with barmaids and thieves where Celaena's human side is brought forth in 'The Assassin and the Healer'. Then we are transported across the hostile Red Desert to meet the Silent Assassins in 'The Assassin and the Desert' whose adventures bring us back to Rifthold and its sprawling rooftops in 'The Assassin and the Underworld'. Finally, and most painful of all we witness both Celaena and Sam's betrayal in 'The Assassin and the Empire' where we are taken through Ardanlan's filthy dens and underbelly. Each novella is worthy of a five star rating as they bring adventure, romance, danger and understanding. I honestly can't decide which is my favourite (perhaps 'the Assassin and the Pirate Lord or the Assassin and the desert'?) as each one brings a new dynamic to Celaena and her story.
Other than the character development and world building what really makes TAB stand out as the jewel it is is Maas's expert use of foreshadowing. Going back to TAB after reading the TOG series I've picked up on so much more.Everything, even events up to 'Empire of Storms' -and most probably the final installment not yet titled – are hinted at. Character's are developed and established ready to be seen later on and famous quotes are given new meaning and significance ("my name is Celaena Sardothien and I will not be afraid") and symbols like the northern wind and the Stag (these ones brought more than a few tears to my eyes!). So if like me you have already read TAB I highly sujest you re-read this masterpiece before the final book is released later this year. Who knows – you might just pick up on a clue you might have missed before!
Yes TAB is romantic and sweeping but at the end of the day it is god damned painful. This is not a story with a happy ending – by no means. It is a story about one girl's betrayal and the scars that will shape and mold her into the character she will be. Every character met during TAB's pages lends a hand in Celaena's shaping and each one leaves their mark, be that good or bad. Like I said – TAB really sets up TOG and the series so it is perhaps the saddest and most heartbreaking of them all. Whether you know what is to come or you are going in blind, nothing will prepare you for the sheer emotion and pain you will have to endure. Will you slowly die inside and cry forever? Yes, yes you will. Is TAB worth it? Yes, yes it most certainly is. So, pour a cup of tea, gathering the best chocolate you can get your claws on, reading the stuffed animals, pillows, blankets and tissues and prepare to begin a journey that will change you forever.
Good luck my friends and happy reading.