Do you remember when this was our cover? A dark, dreary age when a title and a black background was all we had to sustain us during the long wait? A black background with our shiny new, glorious title 'A Court of Wings and Ruin'?
Well, the light at the end of the tunnel has finally appeared because now, not only do we have a name (which let me tell you I practically cried over) – now we have a cover too! A beautiful one at that! And, not just one cover but two covers! Sarah J. Maas has finally released the UK and US  edition covers (which I will both be buying because they are just EVERYTHING).
So, without further ado lets reveal these gorgeous covers that I need ASAP on my book shelves. I'll also be sharing my reaction with you all and, what I think 'A Court of Wings and Ruin' might bring. Speaking of my theories – I would love to hear your own thoughts – who knows? Maybe together we can uncover some plot points! 🙂
BUT BEWARE TO ALL YE WHO ENTER
IF YOU HAVE NOT READ 'A COURT OF THORNS AND ROSES' OR 'A COURT OF MIST AND FURY' THIS IS SO NOT THE POST FOR YOU. THINGS DISCUSSED WILL GIVE AWAY KEY PLOT ELEMENTS AND SPOILERS SO EITHER READ AT YOUR OWN RISK OR COME BACK LATER.
Sorry guys!
…
#sorrynotsorry
Our Covers: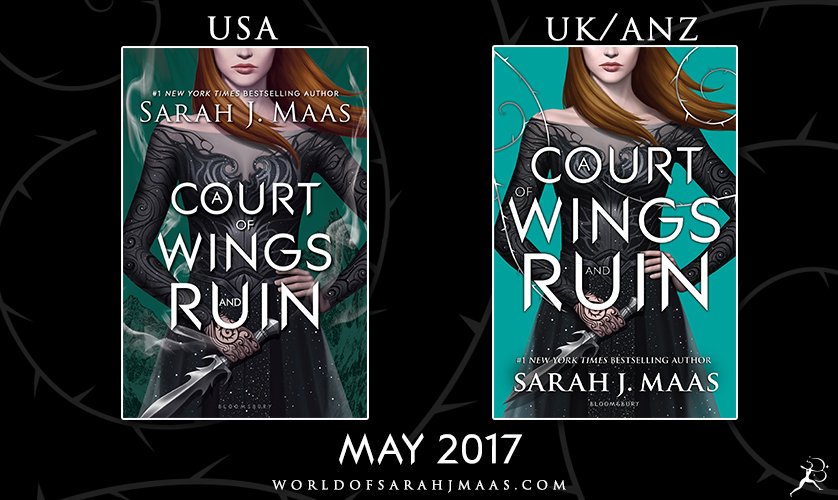 Can I just say wow? This is by far my favorite cover yet! Feyre not only looks totally badass with her rather wicked looking blade but that gods damned dress – it looks like the Night Court woven into fabric! AND SHE'S IN THE CENTER OF THE COVER! All BADASS AND DARKNESS LIKE A WARRIOR QUEEN! YAS! AND THAT STANCE – NO LONGER THE SHATTERED SOUL WE FOUND IN ACOMAF SHE IS READY TO MAIM. I believe that this in itself is a sure sign that our darling huntress will utterly SLAY in this final installment. And, speaking of the dress, some of you die hard ACOTAR fans might recognize it from a stunning rendering of Feyre and Rhysand by artist Charlie Bowater:
 Her picture in itself (among her many other inspiring fan art) is beautiful and I do believe that the team at Bloomsbury made the right decision when they approached Bowater to ask if they could use her dress. It's so regal and elegant – Very befitting for the High Lady of the Night Court and mate to Ryshand. But, at the same time I believe it reflects the darkness within and the beast that lies beneath. We all know what was done to Feyre and her sisters in the final pages of ACOMAF. I for one was shattered. Not that I ever really liked Tamlin but he stepped up from being a total thorn in my side to a ceniving little bastard who MUST BE STOPPED. Sorry, I guess the wounds still a little tender…
Anyway, we know where Feyre was bound after the revelations and betrayals of ACOMAF – back to the Spring Court:
"As if he knew that they had let a fox into a chicken coop – and could do nothing… And so Tamlin unwittingly led the High Lady of the Night Court into the heart of his territory."
― Sarah J. Maas, A Court of Mist and Fury 
and we know that she is so kicking Tamlin's bony little ass after all he's done (and can I just say that I for one am so looking forward to it! Man is he going to get it!). The dress conveys a lot about where Feyre currently stands and that vengeance that simmers beneath the surface. 
All we know for sure is that ACOWAR will bring not only heart pounding romance and earth shattering action but also a whole lot of pain and feels. Perhaps they did get the cover and title wrong? A Court of Pain and Feels seems more befitting – I mean am I right? This fan art and idea for the third installment's cover really seems to hit the mark here!
But, jokes aside here is what we are really in store for when the time (May to be exact) comes…
"Looming war threatens all Feyre holds dear in the third volume of the #1 New York Times bestselling A Court of Thorns and Rosesseries.
Feyre has returned to the Spring Court, determined to gather information on Tamlin's maneuverings and the invading king threatening to bring Prythian to its knees. But to do so she must play a deadly game of deceit-and one slip may spell doom not only for Feyre, but for her world as well.
As war bears down upon them all, Feyre must decide who to trust amongst the dazzling and lethal High Lords-and hunt for allies in unexpected places.
In this thrilling third book in the #1 New York Times bestselling series from Sarah J. Maas, the earth will be painted red as mighty armies grapple for power over the one thing that could destroy them all."
---
Will May come fast enough? No. The answer is no. No it will not. *Sighs* oh well, I'll leave you with some amazing fan art to quench your thirsts for this epic finale. But before you go what do you predict/hope happens in ACOWAR? Let me know in the comments below – I'd love to swap theories with you. Also I am planning to re-read the first two installments before the big release so let me know if you're interested in a buddy read!