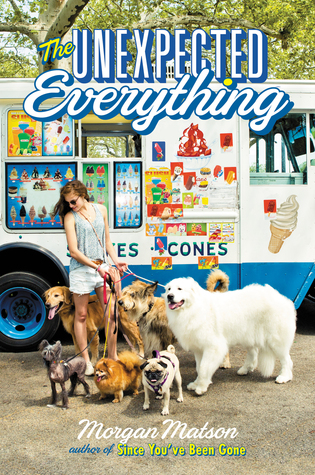 Andie had it all planned out.
When you are a politician's daughter who's pretty much raised yourself, you learn everything can be planned or spun, or both. Especially your future.
Important internship? Check.
Amazing friends? Check.
Guys? Check (as long as we're talking no more than three weeks).
But that was before the scandal. Before having to be in the same house with her dad. Before walking an insane number of dogs. That was before Clark and those few months that might change her whole life.Because here's the thing – if everything's planned out, you can never find the unexpected.
And where's the fun in that?

Here's the thing; Morgan Matson just gets the YA community. Everyone of her unique and some times just down right quirky characters are relatable with real emotions and flaws and real issues that can be traced back to our own lives. Every one of her books from 'Rodger and Amy's Epic Detour' to her latest 'The Unexpected Everything' is romantic and summery yet also with a heaping of emotions and feels. Morgan Matson leaves you gaping in stitches, reaching for those lavender scented tissues and walking away just a little bit more inspired and 'The Unexpected Everything' did not disappoint.
Out of all four of Morgan Matsons books ('Amy and Rodger's Epic Detour', 'Second Chance Summer', 'Since You've Been Gone' and 'The Unexpected Everything') 'The Unexpected Everything' was my least favorite. That isn't to say that I didn't still love it – because I did. It just means that I wasn't as fully invested as I was in her other reads. I still loved the characters both primary and secondary but the one fault I had with this one was it was  very long. Maybe just a little too long. There were a few parts when I found myself starting to become a little bored but that soon passed thankfully.
'The Unexpected Everything' is a cute, quirky read about a group of friends and a rather unexpected summer. It's got that summery, beach vibe going on that we all know and expect from a Morgan Matson book. A pretty unoriginal story, right? Wrong. This one too had a deeper story and theme below the surface. This is a story about the mending of relationships and discovering the unexpected. If I learned two things from reading this book there were a) live in the moment and find the unexpected and b) the importance of family and supporting each other.
One of these relationships is that of family life. Andie being a congressman's daughter has basically raised herself with her mothering having past away. There is practically no real relationship between her and her father. They live in a bubble spun and created purely for the press but when they unexpectedly find themselves living together for a whole summer they are forced to acknowledge their scattered relationship and form a real one. I found myself crying through many scenes regarding Andie and her father, Alexander. Their relationship reminded me so much of the one I had once with my own father so immediately I connected with these characters on a deeper level. From right off the bat I understood Andie's frame of mind and why she was the way she was. Every detail down to her father's job and even her full name (Alexandra) reminded me of myself which also helped to make this a little more difficult to read (As I no longer see my father). It made me sad that her father in the book could reconcile their relationship when for me, ours fell apart. These aspects made this a more emotional read for me and so it took me a lot longer to get through.
However, amidst this story of a father and a daughter coming together again is the story of an awesome friendship group. Palmer, Toby, Bri, Tom – I loved them all and laughed out loud in stitches at their hilarious banter and bickering. And, don't get me started on Toby's fanatic use of emojis – sheer genius on Matson's part. This is one group I'd kill to be apart of. Can you say squad goals? Each brings a new dynamic to their group and each was both quirky and awesome in their own ways. I loved reading about their shenanigans and crazy antics throughout the summer; their pool parties, scavenger hunts and diner meet ups. I seriously need me some friends like Matson's epic characters. And Clark – who could forget the slightly awkward, total nerd but absolutely adorable Clark? Not me!
Clark writes fantasy novels and is more than a little shy at first. I will admit that at first I just didn't get the hype. Favorite Matson boyfriend? Hardly. (That position will remain -for now – to Frank Porter). But I did warm up to him fairly quickly. Clark was home schooled and no, he is not some invert freak but it has had an impact on how he interacts with others. He stutters a little when nervous and jumbles his words but I loved the development of his character as the bromance between hi and Tom deepened. Through falling for Andie and meeting her fantastic group of pals he really comes out of his sea shell and teachers Andie how to open up and let people in.
And the CAMEOS! Don't worry I won't spoil them but keep your eyes peeled for the return/ appearance of some very much loved characters. One thing I did adore about 'The Unexpected Everything' was it's use of cameos to wrap up the events of 'Since You've Been Gone' by showing us glimpses of where the characters stood. Side note: read Matson's books in order to fully appreciate these epic easter eggs!
So to wrap up this rather long and lets just say confusing review let me try to gather my thoughts in a more coherent way. Did I love 'The Unexpected Everything'? Yes, yes I did. Was it a five star read? No, more of a four or four and a half. There were characters and aspects that I loved in this addition to Morgan Matson's epic contemporaries. Things like the friendship group, the relationships and the use of cameo but there were things I didn't like so much. Things like the length and to some extent the love interest. This is where it get's confusing guys! I'll add it to my favorites shelf and recommend it to everyone with a brain but it didn't quite blow me away. I wasn't left reeling (even though that ending!). Bottom line – do I recommend it? YES.