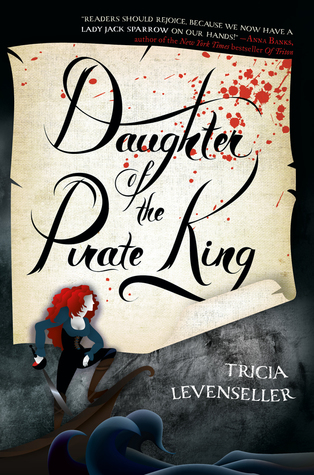 There will be plenty of time for me to beat him soundly once I've gotten what I came for.
Sent on a mission to retrieve an ancient hidden map—the key to a legendary treasure trove—seventeen-year-old pirate captain Alosa deliberately allows herself to be captured by her enemies, giving her the perfect opportunity to search their ship.
More than a match for the ruthless pirate crew, Alosa has only one thing standing between her and the map: her captor, the unexpectedly clever and unfairly attractive first mate, Riden. But not to worry, for Alosa has a few tricks up her sleeve, and no lone pirate can stop the Daughter of the Pirate King.
You may or may not have noticed that lately I've been on a little bit of a pirate bender. What can I say? I've got a thing for sexy swashbucklers and high seas shenanigans.
But after reading Sarah Tolcser's Song of the Current Duology and marathoning the Pirates of the Caribbean movies I was in the mood for yet another action packed, rum soaked adventure. Daughter of the Pirate King defiantly curbed that craving, what with it's female Jack Sparrow and fantastic dialogue. I liked Daughter of the Pirate King, I really liked it but it doesn't exactly live up to it's hype.
From what I took away from both the cover and the blurb, I thought I was in for another pirate adventure full of sword fights, ship wrecks, ancient treasure, even more sword fights and a whole tone of bad-assery.
Unfortunately Daughter of the Pirate king doesn't really deliver on those fronts but don't get me wrong – it's still a lot of fun and definitely worth the read. Daughter of the Pirate king is one of those books that you either love or you hate. Before picking this one up I did do the whole goodreads review check and it had a lot of mixed reviews. Probably because, as I said, Daughter of the Pirate king isn't actually very action packed for a pirate themed novel – that is until you reach the final act of the novel.
Let me elaborate…
In Daughter of the Pirate King we follow our protagonist Alosa who is, literally the daughter of the king of Pirates. The King rules the high seas with an iron-fist and a will of steel and he has given Alosa a mission. She has to allow herself to be kidnapped/held prisoner by their enemies so that she can comb their ship in order to find an ancient map which holds the secret to the Pirate lord's treasure. Pretty much all of this takes place within the first chapter. So what's left for the rest of Alosa's story? Basically we follow Alosa (now a prisoner of her own making) in her escapades aboard the Nightfarer as she searches for the legendary map, taunts the crew and basically sits in her cell contemplating said map.
Not exactly the swashbuckling adventure we signed up for right?
Wrong.
Despite Alosa's situation Daughter of the Pirate king is still a very enjoyable read and the reason why can be summed up in just about one word – Riden. Riden is the Nightfarer's  sexy  first mate and he and Alosa practically get on each other's nerve from the get go. Be prepared for a whole lot of sexual tension, playful and downright flirty banter and some seriously steamy scenes. It's Alosa and Riden's relationship that takes the helm and keeps the pages turning as they wade through their confused feelings. I was shipping them from their very first scene and I promise, you will be too.
The tone of the novel was also a lot lighter than I expected it to be. This is by no means not a dark, gritty pirate story despite Alosa's brutality. Daughter of the Pirate King actually reads more like a comedy with its witty dialogue and hilarious banter. It's super fun, entertaining as hell and will leave you in stitches in more than a few scenes. Tricia's writing style also keeps those pages flying by. Once I got over my initial disappointment of Daughter of the Pirate King not being a sweeping, epic pirate fantasy I easily got into the flow of Alosa's story and couldn't put it down. This is easily a book that can be read in one sitting.
Alosa had been hailed by most bloggers as a female Jack Sparrow. At first I was skeptical, especially because most of the story is shipbound but make no mistake – that doesn't stop our girl from being a complete and utter bad ass. Alosa is beautiful and feisty but isn't afraid to get her hands dirty to get the deed done. Having been trained by the Pirate King himself, Alosa is the best and the only one for the job. I was left in stitches as she tries to escape the Nightfarer (she's got to keep up the appearance of being the reluctant prisoner of course!). Not only did she have to stage her escape but when the crew don't come after her she must stage her capture (again!). I think I rolled my eyes along with Alosa when she couldn't believe that she had to do literally everything herself.
Despite her bad-assery I don't think Alosa was a female Jack Sparrow. Jack Sparrow is a notorious drunkard whose ridiculous plans happen, by some luck, to work out. Alosa was way to calculative and precise. She would never let her perceptions be handicapped by drink – I'm my opinion she is a cross between Jack Sparrow's wit and Barbosa's cunning and skill.  (That being said I do heart me some Jack Sparrow!)
Though not being the pirate adventure I was looking for Daughter of the Pirate King is still such a fun read and I did really enjoy Alosa's story. Despite being shipbound for the most part of the story there is still plenty of sword fights, witty banter and steamy times with the sexy first mate. Daughter of the Pirate King definitely sets up for some epic action in the sequel. I'm just going to say – no way is Alosa going to let a certain someone get away unscathed! Such a hilarious, quick read but make sure you pick this one up knowing it will be light and humorous.