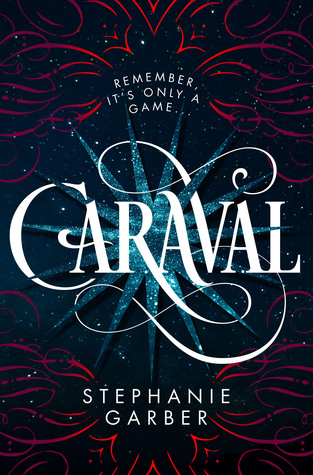 Welcome, welcome to Caraval―Stephanie Garber's sweeping tale of two sisters who escape their ruthless father when they enter the dangerous intrigue of a legendary game.
Scarlett has never left the tiny island where she and her beloved sister, Tella, live with their powerful, and cruel, father. Now Scarlett's father has arranged a marriage for her, and Scarlett thinks her dreams of seeing Caraval, the far-away, once-a-year performance where the audience participates in the show, are over.
But this year, Scarlett's long-dreamt of invitation finally arrives. With the help of a mysterious sailor, Tella whisks Scarlett away to the show. Only, as soon as they arrive, Tella is kidnapped by Caraval's mastermind organizer, Legend. It turns out that this season's Caraval revolves around Tella, and whoever finds her first is the winner.
Scarlett has been told that everything that happens during Caraval is only an elaborate performance. But she nevertheless becomes enmeshed in a game of love, heartbreak, and magic with the other players in the game. And whether Caraval is real or not, she must find Tella before the five nights of the game are over, a dangerous domino effect of consequences is set off, and her sister disappears forever.
"Remember, it's only a game…"
…Or is it??? *insert evil laugh here*
Caraval is a book that just blows you away with how complex and layered it is. A feast for both the mind and the senses – I literally cannot rave about this stunning book enough. Full of mystery, romance, antiheroes and plenty of magic!
In Stephanie Garber's enchanting debut novel we are swept away into the whimsical, wonderland-like world of Caraval. They say Caraval is merely a game but the lines between fantasy and reality become dangerously burred. With world building and a setting reminiscent of the splendor of The Night Circus, Caraval is lush with more than a few twists and turns that leave you questioning everything you thought you knew. Is it merely a game? Or is there something more sinister at work?
After finishing Caraval twice all I can say is this: I still don't know what I believe. 
What I loved most about Caraval was the writing style that went hand in hand with the novel's pacing. Pacing is crucial in a book like Caraval, full of suspense, twists and turns but Stephanie Garber more than delivers. Each page was perfectly paced – every chapter leaves you guessing and grasping at straws. Never has a book left me so enthralled as I turned the pages, desperate to find the answers. 
All I can say is just when you think you've got it all figured out – BAM! Nope. Guess again.
At it's heart, Caraval is a story about sisterhood. Each sister is forced to  and just how far they each will go to protect the other. Talk about some serious Frozen vibes (sorry I can't help myself). Caraval is told solely from Scarlet's perspective, the elder sister, who carries a very heavy chip on her shoulder. This leaves every other character, including her younger sister Tella's motives up for questioning. Scarlet is such an interesting character. She comes from a seriously troubled family – her father isn't above murder or abuse as a means to control his daughters. It's because of her father that Scarlet has this selfless need to keep her sister safe and a fear she carries deep in her heart. Scarlet doesn't trust anyone and Caraval catapults her out of her illusion of safety and into the unknown where she finds she must rely on Julian. Julian is hiding secrets of his own and I loved watching her development as she explored her way through Caraval's world to save her sister.
Okay, now that I've mentioned Julian I really must talk about his seriously delicious character. Guys, meet your new book boyfriend. Julian, much like Scarlet herself, is multilayered with a vast sea of secrets. He may be seriously swoon-worthy but that won't stop you from being weary of him too. On the surface, Julian appears to be nothing more than a blackheart. He only helps Scarlet because he needs a ticket into Caraval and he believes she is his best chance at winning the game. Not exactly honorable, am I right? Well as the game moves on so does his character. Julian is actually fiercely loyal which he proves at many points when he risks his own safety for Scarlet's.
Also can we please just talk about how he calls Scarlet "Crimson"??? AJHSYSBFOHSHJDFBGKSJDFLAKAKSDNF I LITERALLY CAN'T DEAL WITH THE LEVEL OF CUTENESS! Don't pretend you didn't swoon each and every time. Also was I the only one who thought of Flynn Rider and how he called Rapunzel "Blondie"? Actually, now I think about it – Julian himself gave me some serious Flynn Rider vibes! He's devilishly handsome with an attitude and wit to match.
I can't talk about the Caraval master, Legend without getting further into spoiler territory so my advice is to venture into Caraval's pages blind. Trust me, this is not a book that you want spoiled. Caraval is a ride that needs to be enjoyed so just let it sweep you away. But good luck trying to figure everything out. Not even I, who can always spot a plot twist from a mile away, guessed it. All I will say is keep your wit and mind sharp – no one is exempt from suspicion. Have fun… heeheehee…
Now I simply must gush about how incredibly lush the world building was. Don't worry – I promise not to spoil the magic. Speaking of magic, Caraval has a wonderland-like quality that only intensifies as you continue down the rabbit hole (although not literally). Imagine a world that combines the enchantment, wonder and circus vibes of The Night Circus and the whimsical of Alice in Wonderland and you come close to Caraval. In Caraval, the players trade in bargains. Here currency can be anything from secrets, promises and even blood. The dark nature of the bargains adds to the permeating feel of menace that Stephanie expertly weaves in with the wonder. Here there be monsters lurking beneath the colorful facade which paired with the suspense makes for a very interesting read.
So should you read Caraval? Most definitely! I actually appreciated everything that Stephanie has crafted even more the second time around, bumping my initial four stars up to a solid five. Caraval is a book that pretty much demands to be read and re-read. It's that sort of book that gives you something more to think about with each read. I saw all the characters in a new light and picked up on a lot more clues that Stephanie scattered throughout. As of writing this review I have started Legendary and let me just say – OMFG!!! This world just gets better and better. Already I'm questioning everything I thought I knew about Caraval so hurry up and join us on the bandwagon because this is such an incredible series.