So, I have an earth shattering announcement to make. Drum roll please…
I, Lexie of Reading By Starlight have actually conformed to the 21st Century and created a Netflix account.
*Braces for oncoming end of the world and cliched earth-quaking as the world falls down*
Okay, okay – I know what you're all probably thinking… "It's about dang time, lex!".  Am I close? I'd finally had enough of being basically swarmed by the insane influx of To All The Boys I've Loved Before film reviews and overall hype. It was time. So, I finally rolled up my sleeves and went for it. It was either cave or live with the soul crashing disappointment of waiting for a DVD release. Besides – not only have I watched the film at least five times since but it's led me to discover some other awesome Netflix films like The Kissing Booth (which I love almost just as much!).
Before I get into my review, just a quick disclaimer: I'm going to be discussing the movie and my thoughts so there will be some minor spoilers in terms of Easter Eggs, what I loved and what I didn't but if you read the book then you'll know all this anyway. I won't be spoiling the major plot points or the ending though. Just so your warned – I've got your back 😉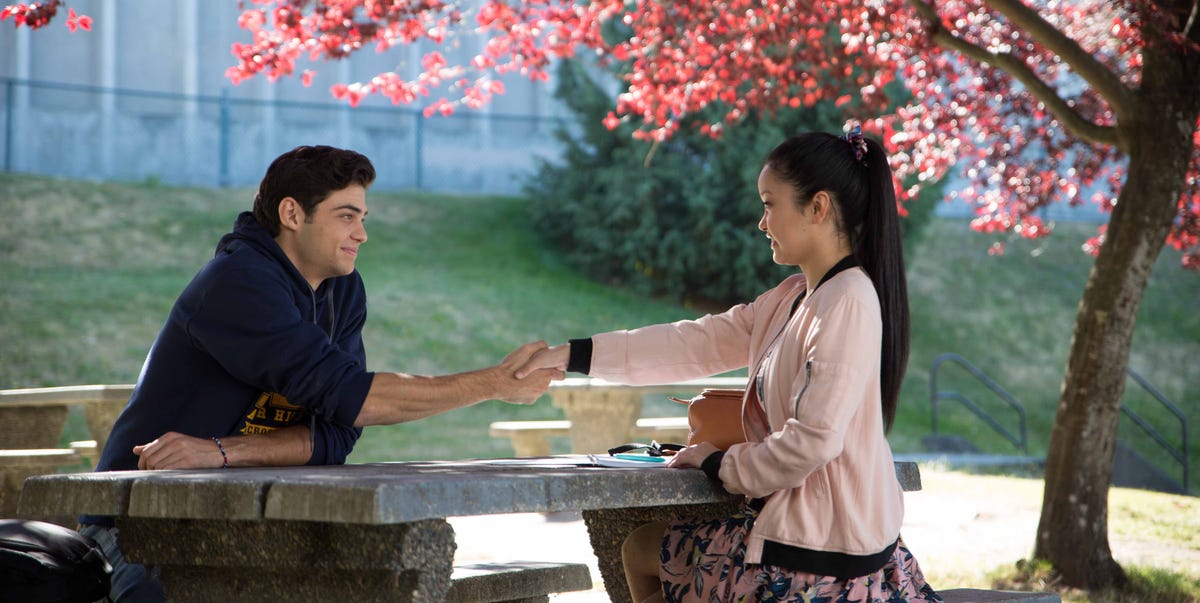 Basic Run-Down of Feelings:
From the moment I saw the adorable trailer I knew, not only that this was going to be the book to film adaption to rule all book to film adaptions but that I was going to be obsessed. I wasn't wrong on both those fronts. To All The Boys I've Loved Before is a cute, faithful adaption that brings an onset of feels, quirky, 100% relatably awkward characters, a good dose of sisterly-bonding and a spoonful (or two) of totally crush-worthy boys. The ultimate rom-com, basically To All The Boys I've Loved Before is adorable and if you haven't already jumped aboard to the band wagon well then, what are you even doing? Get on it! 😉
 The Plot: 
As with the majority of YA book to film adaptions, To All The Boys I've Loved Before follows the plot of Jenny Han's beloved novel very tightly. Obviously due to script needs and the nature of filming in general a couple of things were changed but overall I was super happy with any new spins and decisions made. I think the film really captured the overall tone of the book, changes and all. And yet, [braces for the on-coming mob] I as much as I adore the books, I actually think this is a classic case of the film surpassing the book.
So basically, the story follows the quirky but relatable Lara Jean as her high school love life basically goes from non-existent and pretty much imaginary to completely out of control. A hopeless romantic at heart, Lara Jean writes her crushes love letters. These letters, of which there are five, are not meant to be read by anyone other than her and she keeps them hidden away in a hat box her mother left her. But what happens when the letters are sent out? Basically a whole lot of adorable shenanigans, some seriously confused feelings, mixed signals and drama! To All The Boys I've Loved Before is a perfect coming-of-age film, much like a John Hughes rom-com of the 80s, only in the 21st Century! Whether or not you have read the book, it's pretty much the must see film of the year.
The Characters: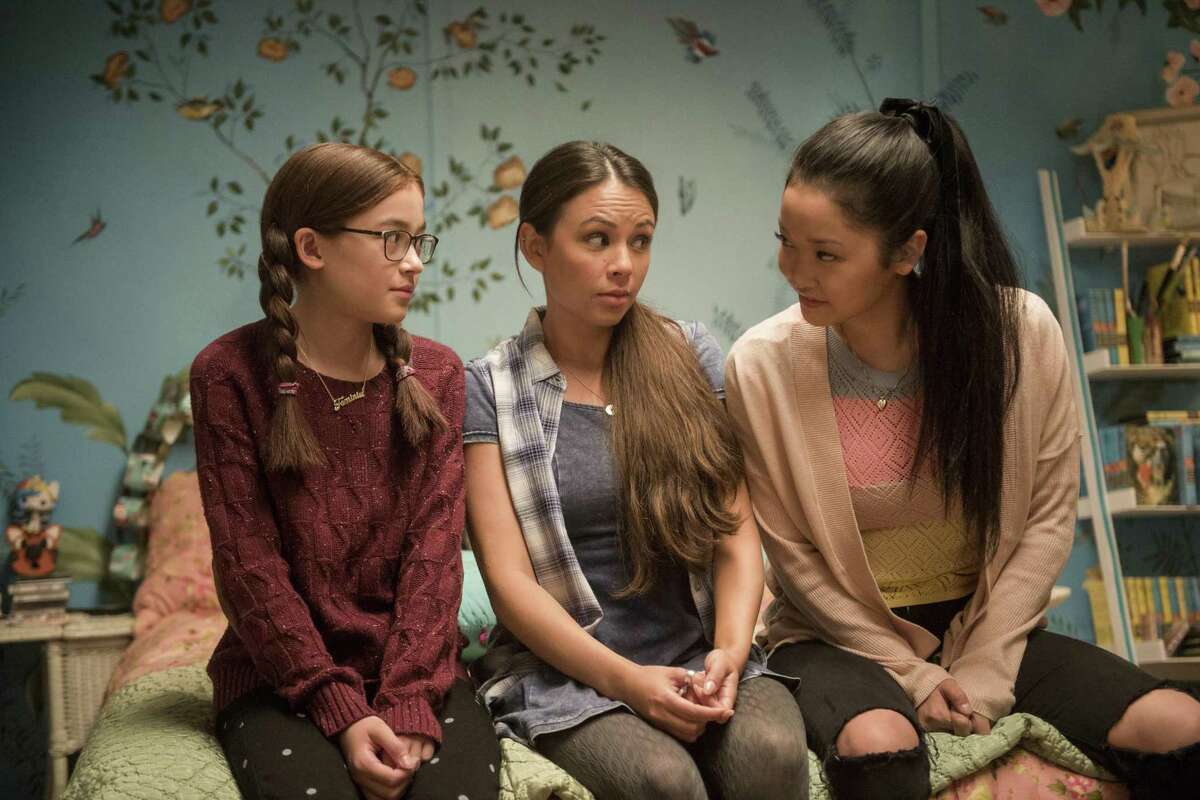 I've just got to say, right off the bat that much like with The Darkest Minds adaption which came out a few weeks ago, the casting for To All The Boys I've Loved Before is pretty much darn perfect. The chemistry and dynamics in the various relationships in the movie is just almost too much to handle. Not only do we have sizzling sexual tension in the form of Noah Centineo as Peter Kavinsky but the sense of family and the exploration of sisterly-bonds is just heart warming. We have the charming and sometimes just down right hilarious, John Corbett as Lara Jean's widowed father, the big sister Margot played by Janel Parrish and then the adorable Kitty played by Anna Cathcart. The friendships and relationships translated really well onto the screen, this is a tight knit cast and you can really feel it.
Now let's discuss our protagonist, Lara Jean…
Can we please, just please talk about how dang good Lana Condor was??? I will admit, when the casting was first announced I was a little skeptical and a little disappointed. In the book, Lara Jean is described as being half-Korean and half-Caucasian and I was really hoping for a bi-racial actress to portray her. Lana Condor just totally kicked this role out of the park. She was the perfect mix of cute, adorable and quirky. She was pretty much 100% relatable in every shot, leaving me yelling "same!" and laughing in hysterics at her escapades. I mean falling off the roof??? Hilarious! Lana Condor's comedic timing was also pretty darn spot on. Her facial expressions, the way she delivered her lines… she's just classic. I was beaming from ear to ear for the entirety of the film. Trust me – my cheek muscles are still screaming.
 And don't even get me started on Noah Centineo as Peter freaking sexy Kravinsky! If I'm being honest I was actually disappointed with Peter's character in the books. Specifically P.S. I Still Love You – I was that one reader who was sitting there like "Screw you, Kravinsky! Lara Jean! What are you doing girl?!? Peter is so NOT the man for you!". I was always a John Ambrose McClaren kind of girl. That scene in the snow in P.S. I Still Love you? YAS! The mustang? The costume? I was always bummed with the end to their flirtation but the movie completely turned the tables for me. I'm actually still coming to terms with my new found feelings because Noah Centineo's Peter was swoon-worthy and I think I'm in love. I loved how in the movie he was so much sweeter and romantic to Lara Jean and I loved watching their relationship develop. Also, can we please just mention the gigantic, pink elephant in the room in the form of Noah and Lana's chemistry??? Can they just shut up and date already? Please?
Easter Eggs and Final Thoughts: 
Did anyone miss Jenny's cameo??? No? Well, in the unlikely event that you've been living under a rock and did, our author Jenny Han actually makes a fairly prominent cameo in the film which I loved. I just love when the film makers add that little extra nod to the source material and the long-time fans. Keep your eyes peeled in the flash-back scene with Lara Jean and Lucas at the homecoming dance and you might just spot Jenny.
Basically To All The Boy's I've Loved Before (if you haven't already gathered) is the must see romantic comedy of the year. As far as book to film adaptions go, To All The Boys I've Loved Before manages to stay faithful to the tone of Jenny Han's adorable series but bring some new elements to the scene. Hats off to Netflix and the cast and crew because everything, and I do mean everything here was on point. The casting, the cute color pallet and the element of comedy… Everything comes together seamlessly to create the most epic romantic movie ever. This is a story that a. makes one feel very, very, very single and b. like I want to just go out and live life to the absolute fullest. Such a heartwarming movie and I highly recommend watching it… And then proceeding to watch it again. Now excuse me while I go and listen to Anna of the North's Lovers and Tears For Fears' Everybody Wants To Rule The World on repeat. 😉