Blood will run. Dreams will shatter. An army must rise.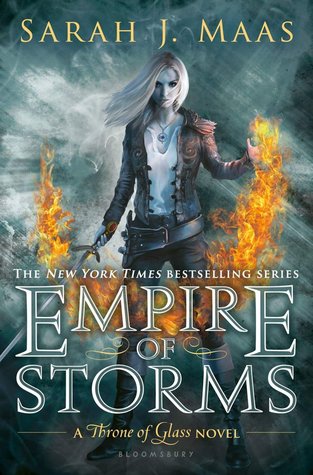 The assassin-queen has sworn not to turn her back on her kingdom again. especially when she might be the only one who can raise an army to keep the dark king from unleashing his beasts upon them all. By Erawan will wield Aelin's past, her allies and her enemies against her.
With a powerful court trusting Aelin to lead them, and her heart devoted to the warrior-prince at her side, what – or who – is she willing to sacrifice to spare her world from being torn apart?
A fight for her throne. A War against darkness.
Empire of Storms is everything it's name suggests. A fierce maelstrom of violence, bloodletting and emotional turmoil as war gathers on the horizon and our squad prepares to go head to head with Darkness with a capitol D. A desperate quest crammed with pirates, sea dragons, witches and then the usual amount of plotting and scheming only to be expected from a Sarah J. Maas book, Empire of Storms' plot plays out much like a chess match. A grueling game of strategy where the upper hand constantly shifts between the myriad of players and moving pieces. So strap in, because this power struggle is one hell of a ride.
Beware – Major spoilers ahead for the previous installments. You have been warned.
Empire of Storms begins just as Queen of Shadows left off. Aelin and her court are making the long trek home to Terrasen through the domain of Brannon and the little folk; Oakwald forest. But the long journey to the mantle of her throne isn't over yet – what with the lords ruling against her and exiling the would be assassin-queen from the glittering pillars of Orynth. Basically throne-less with a decorative title, there's really only one thing left to do. Aelin must embark on a desperate quest, journeying across Erilea, calling in old debts to raises an army of thieves, assassins, cutthroats and rebels. Perhaps the only force cunning enough to challenge the growing threat of Morath. Let's just say that at this point reading The Assassin's Blade is past crucial.
Right off the bat (or in this case would sword work better?), I just want to put it out there that I've been sitting on this review for longer than probably necessary. Empire of Storms is one hard book to review. Almost a sheer beast in size, Empire of Storms is dense with a myriad of shifting narratives. Because there is just so much going on, it is near impossible to condense all the feels and aspects into one review. With that in mind, I'm proclaiming that this here paragraph will be a mess. Basically a quick note of what I loved. First thing's first; dang, I was 110% here for the Tolkien-esque journey through Erilea. I mean Sarah has always been a master at world building but Empire of Storms does it best. Second; can we just take a moment to cheer for the fact that my favorite self-elected-pirate-king is back? I was just itching to return to Skulls Baby, stalking the Tortuga-ry ruffian infested bars and hovels. Next; Lysandra is my queen and I lived for her arch. The way Sarah portrays the female friendship between Lysandra and Aelin  is just epic. They sacrifice for each other and will lay literally everything on the line. Watching them pull one over on Captain Rolfe was just to hilarious. Fourthly; the Cadre joining forces with the Terrasen court? Um, Yes! I'm all about the territorial fae males. Finally; the banter between Aelin and Manon was just fantastic. Also, Aelin clicking her tongue and comparing the names of their two blades was everything. I was in hysterics.
Okay, now I've sorted that, moving onto my more coherent thoughts…
Aelin's character has grown so much over the course of the series, evolving from the sassy, arrogant assassin Celaena Sardothien first introduced in Throne of Glass. Empire of Storms brings deeper layers to her already more than complex personality. We see a tired woman, gripping onto hope with everything she has. Having literally clawed her way out of her dark past, Aelin will do whatever it takes to see her family safe and her country liberated. Empire of Storms highlights the selfless, calculated, self-sacrificing Queen that she is, leading a power-house court of dreamers; Rowan, Aedion, Lysandra and Evangeline (#squadgoals). Of course, it wouldn't be Aelin without some secretive and downright devious plotting and scheming. At this stage in the game, you just know she's got a card or two stashed up her sleeve to save all of their asses. All I'm saying is prepared to be utterly gutted.
Much like Heir of Fire and Queen of Shadows, Empire of storms is utterly sprawling in it's scope, splitting the main rising action between various narratives. Basically epic fantasy at it's best at the hands of a master storyteller. That being said, there was one plot line that completely stole the show and I was 100% here for it. Aelin isn't the only bad-ass wondering the wilds of Oakwald. Remember Elide Lochan? What seemed like a convenient character device to help Manon find her humanity has proven to be so much more. Elide, on the run from the shadow of Morath and her uncle, teams up with Lorcan Salvaterre as they make their way across the continent in search of Aelin. Can we please just talk about how much I actually lived for Elide totally making Lorcan her bitch? I mean, the man (the most powerful demi-fae in existence, member of the cadre) actually cuts his shirt into strips for Elide to use for her cycle. Their narrative was crammed with witty banter, plenty of escapades, close scraps and rounded with a good amount of general bad-assery.
Speaking of Manon… This woman just keeps surprising me. Initially, I was skeptical of her place in Sarah's world. In Heir of Fire, the Ironteeth witches felt out of place. Why did I care about a bunch of moody witches and their train-your-dragon-like shenanigans? However, through the course of the later installments and my various re-reads Manon has fast become one of my favorite characters. That being said, man did she up her game in Empire of Storms. Much like Queen of Shadows, more is revealed about how the witches fall into the overall plot and endgame. I mean, that whole revelation with the Crochans, the Three Face Goddess and the Eye of Elena? Who here saw that coming? Certainly not me. All those various plot threads and subplots, the foreshadowing – it's all knitting together for the final punch that will be Kingdom of Ash. Remember that little plot thread with Baba Yellowlegs and Elena back in Crown of Midnight? Remember "nameless is my price"? Everything, and I do mean everything is relevant to the overall series arch.
To wrap up this rather messy (my perfectionism is thrashing and clawing at me to not post this) and long review. I just want to touch on that brutal ending. And no, let me just be the first to assure you that it doesn't get any easier the second time around. Just when everything seems to be going as planned (the allies meeting up in Eyllwe, the arrival of Elide with the second wyrd key and the retrieval of the "lock") the quest is thrown into chaos with the arrival of the big bad. Also, making us wait for two years for this mess to be fixed? Unforgivable. Utterly unforgivable, Sarah. I screamed, I cried and a part of my soul died as the final pieces fell into place; the endgame becoming clear as the true antagonist declares themself. A word of advice? Make sure you have tea and chocolate… And maybe a stuffed animal or significant other to comfort you through what will be the worst book hangover since A Court of Mist and Fury. You have been warned. Enjoy the pain, my friends.
The good news? Less than ten days to go now till the end is neigh.