The final battle is here…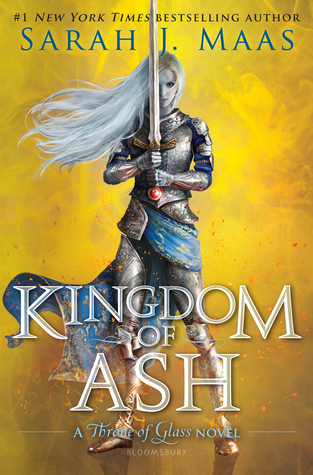 Aelin Galathynius has risked everything to save her people – but at a tremendous cost. Locked in an iron coffin by the Queen of the Fae, Aelin must use all her fiery will to endure the torture inflicted upon her. If she yields to Maeve she will doom everyone she loves, but her resolve is beginning to unravel…
With Aelin imprisoned, her friends must go on without her. Some bonds will deepen, while others will be severed forever. But as destinies weave together at last, all must unite as Aelin fights to save herself – and the promise of a better world.
Foreword: this review is, for the most part, vague and spoiler free, ideal for those who haven't yet plunged into Kingdom of Ash. However, there will be spoilers for the first installments. Nothing mentioned below regarding Kingdom of Ash's plot, in my opinion, is a spoiler, mainly an extension of the blurb. That being said, I understand that this is the final book in the series and if you want to go into Kingdom of Ash completely blind I would suggest coming back once you've read this amazing book. 🙂 
"Once upon a time, in a land long since burned to ash, there lived a young princess who loved her kingdom…"
And so begins the final breathtaking maelstrom of adventure, action, violence and blood letting (emphasis on the violence and blood letting) as war is waged in the long awaited conclusion to the Throne of Glass saga. The stakes have never been higher as every narrative, every plot threat is weaved together and the series hurtles towards it's shattering climax – one fight that's no doubt "worthy of a song". Kingdom of Ash is a sheer beast. Coming in just shy of one thousand pages, be prepared for a lot of tears as our beloved characters are pushed to the breaking point – and then some. A desperate quest, Kingdom of Ash presents a world primed to fall setting a bleak, hopeless tone as our heroes fight a losing battle on all fronts. And yet, this story has never been one of darkness but of light. Amidst the pain, blood and sweat lies a kernel, a small sliver of hope and determination.
A fight for closure and a fight for "a better world" – "to whatever end".
Part One isn't called "armies and allies" for nothing. Considering Kingdom of Ash's immense length, the majority of the plot centers around the building war.  That's not necessarily a bad thing because I was really feeling the LoTR vibes with the amount of strategy meetings and blood drenched battles, especially when those said battles were just so dang epic. Kingdom of Ash opens with Aedion and Lysandra stationed at the front in Terrasen only months after we left off in Empire of Storms. The myriad of Sarah's characters have been scattered to the winds with each narrative presenting one last desperate quest. While Aedion, Lysandra and the Bane defend Terrasen from the wrath of Morath, Rowan with the cadre and Elide are combing the world for Aelin who's left to the mercy of bitch Maeve. But that's not all. We have Manon, the Thirteen and Dorien as they set off on their quest to rally the lost Chrochan witches and to find the final wryd key. Then we have Choal, Yrene, Nesryn and the armies won from the Southern Continent in Tower of Dawn who are pressing through the wilds of Erilea to make it to the front in time. And who could forget the Gods and their need to forge the lock?
Basically – the board has been set, the pieces in place awaiting the last stand. The stand to end all wars.
Right off the bat (sword?) I want to say that Kingdom of Ash is EVERYTHING. All that we dreamed it would be and more. It's sweeping and epic but obviously, Kingdom of Ash is very emotional and at times, it's a lot. Trust me when I say that Kingdom of Ash delivers all the feels because I cried relentlessly and I'm not talking about graceful sobbing but your typical gut-wrenching-snot-inducing-kind-of-crying. I cried through Aelin's graphic and grueling torture. I  cried through the reunions (of which there were many). I cried through the all the deaths (I am still working through my grief and PTSD after chapters 89 and 90 – Sarah, I'll be sending you my therapy bill!). I cried through the near constant pain of witnessing our crestfallen heroes fight tooth and nail, sacrificing everything in their losing battle. And, just when I thought I didn't have anything left to give, I cried for the last eighty-odd pages straight as our story came full circle. Closure at long last.
Talk about a freaking book hangover.
There were times when Kingdom of Ash, with it's heavy atmosphere and the tension you could cut with one of Aelin's jewel encrusted daggers, was almost too much to handle. When the long campaign to the throne kept me up deep into the night I had to force myself to take a step back. Basically, in the off chance that my ramblings aren't clear enough, Kingdom of Ash is not, by any standards a light book. That being said – I loved every single second of it. This was a worthy, near perfect close to the series after the amount of anticipation the previous installments had built. I loved the pain and anguish and I couldn't just let these characters, their narratives go. This always has been a story world that truly makes you feel alive. You grieve for these characters – you live and breath them. Reading Kingdom of Ash with you, our community; crying and swooning together is a reading experience we will never be able to coherently put onto paper. It's also an experience I'm positive we'll never get the chance to live again.
Looking back, I don't think any of us realized the sheer scope of this series when we cracked open Throne of Glass or The Assassin's Blade for that first time. During the span of eight books (or 7 books, 4 novellas and 4,912 pages) the story evolved from the tale of a swaggering assassin and her fight for freedom into a sprawling saga; the tale of an epic power struggle spanning multiple narratives and continents. And while the over-all story arch evolved, so did the world building as it took us to exotic, vivid landscapes with an equally deep lore and mythology. Having sobbed, cheered, cried, laughed and screamed my way through the immense pain and bittersweet ending that is Kingdom of Ash all I want to do is turn back to the start and begin this incredible journey again. These characters and this fandom has been a huge part of my life and while we might be closing the door on this world for now, our story coming full circle, know that Erilea will never really leave us – "from now until the darkness claims us".
Side note: Keep your eyes peeled because I'll be doing an in-depth "Thoughts I Had While Reading Kingdom of Ash" post in the next week because I need to talk about the characters and the events which I couldn't put into my review without breaching spoiler territory. If you follow me on Instagram or Goodreads and need to either vent, rant or rave feel free to DM me!