Well it's that time of year again. The ball over Times Square has well and truly dropped and as we continue to ring in the New Year I want to take this time to not only compose my Literary Resolutions for 2019 but to reflect on my bookish year in 2018. *Cue Frank Sinatra's New York, New York*.
What a year it has been though! Between the anticipation that was the release of Kingdom of Ash as well as many incredible debuts, 2018 was a big year in the community. Despite 2018 being well… to say the least a tough year for me personally I did manage (amidst various book slumps and the agony that was the Kingdom of Ash hangover) to read a record number of books. Yay! For those of you who are interested in the statistics feel free to check out My Year 2018 In Books on goodreads but the short hand version is this:
In 2018 I completed my reading challenge; reading a grand total of 26,000+ pages across 70 books. The shorted book being Charles Dickens's A Christmas Carol. The longest being Sarah J. Maas's Kingdom of Ash. As always, there were ups and downs among my read shelf with some books earning a 5 star rating and others barely scraping away with 1 star. Actually, come to think of it – 2018 was the year of re-reads for me. I re-read some of my favorites, including the Twilight Saga and The Secret Garden. I also finally completed some older series, namely the House of Night series a whopping total of 12 books and 4 novellas. I'm sad to admit that only 29 books out of 70 weren't re-reads. But hey – that's okay. Keep your eye's peeled because in the weeks to come I'll be sharing my 2019 TBR and the books that'll take top priority in the new year.
For now? Let's take a look back at the year that was as I share my list of the best and worst books read in 2018. 
Worst Books of 2018
---
The Cruel Prince by Holly Black [2.5 Stars]
Jude was seven years old when her parents were murdered and she and her two sisters were stolen away to live in the treacherous High Court of Faerie. Ten years later, Jude wants nothing more than to belong there, despite her mortality. But many of the fey despise humans. Especially Prince Cardan, the youngest and wickedest son of the High King.
To win a place at the Court, she must defy him–and face the consequences.
In doing so, she becomes embroiled in palace intrigues and deceptions, discovering her own capacity for bloodshed. But as civil war threatens to drown the Courts of Faerie in violence, Jude will need to risk her life in a dangerous alliance to save her sisters, and Faerie itself.
My Reflections
It seemed like literally every man and his dog loved The Cruel Prince and yet some how it just didn't click with me. Okay – it wasn't the worst book I've ever read but I just didn't get the appeal. I mean, did I read the same book that everyone else did??? Seriously what did I miss? This book was purely court politics, bullying, revenge and abuse. Not my cup of tea. *Runs from the on coming mob*.
---
RoseBlood by A.G. Howard [2.5 Stars]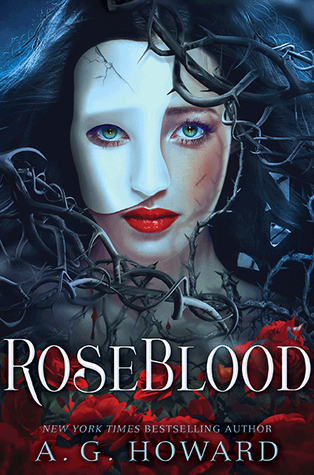 In this modern day spin on Leroux's gothic tale of unrequited love turned to madness, seventeen-year-old Rune Germain has a mysterious affliction linked to her operatic talent, and a horrifying mistake she's trying to hide. Hoping creative direction will help her, Rune's mother sends her to a French arts conservatory for her senior year, located in an opera house rumored to have ties to The Phantom of the Opera.
At RoseBlood, Rune secretly befriends the masked Thorn—an elusive violinist who not only guides her musical transformation through dreams that seem more real than reality itself, but somehow knows who she is behind her own masks. As the two discover an otherworldly connection and a soul-deep romance blossoms, Thorn's dark agenda comes to light and he's forced to make a deadly choice: lead Rune to her destruction, or face the wrath of the phantom who has haunted the opera house for a century, and is the only father he's ever known.
My Reflections
This book had my name plastered all over it. A modern day retelling of the Phantom of the Opera? Ah, hell to the yes! So, you can imagine my disappointment when RoseBlood didn't deliver. Maybe I was too close to the source material? I just wasn't feeling it – too weird but mostly RoseBlood just doesn't satisfy. I found I only read the words – I didn't become immersed in the character's journeys, I couldn't lose myself in the story. Also, the writing style added to slow down the plot making it a chore to trudge through.
My RoseBlood review can be found here
---
Wintersong by S. Jae Jones [1 Star]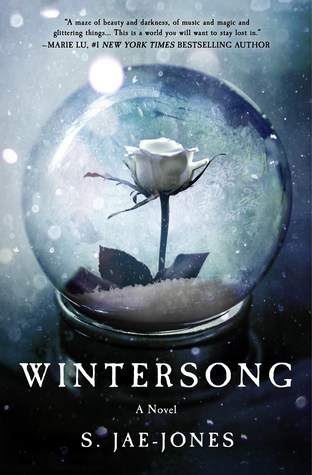 All her life, Liesl has heard tales of the beautiful, dangerous Goblin King. They've enraptured her mind and spirit and inspired her musical compositions. Now eighteen and helping to run her family's inn, Liesel can't help but feel that her musical dreams and childhood fantasies are slipping away.
But when her own sister is taken by the Goblin King, Liesl has no choice but to journey to the Underground to save her. Drawn to the strange, captivating world she finds–and the mysterious man who rules it–she soon faces an impossible decision. With time and the old laws working against her, Liesl must discover who she truly is before her fate is sealed.
Dark, romantic, and powerful, Wintersong will sweep you away into a world you won't soon forget.
My Reflections
And the award for worst book ever read goes to…
Meet my arch nemesis. Never have I come so close to just DNFing a book – at 78% I was just done with the complete and utter lack of plot, not to mention the whiny AF characters. I stand firmly by my opinion that the world seriously did not need a 50 Shades of Labyrinth (Yes – that was the author's own phrase).Wintersong completely missed the mark as a Labyrinth retelling but, that being said, Wintersong just didn't cut it as it's own novel. Trust me on this one – just watch the movie instead guys.
My Wintersong review (or rant) can be found here
---
Best Books of 2018
---
Catwoman: Soulstealer by Sarah J. Maas [4.5 Stars]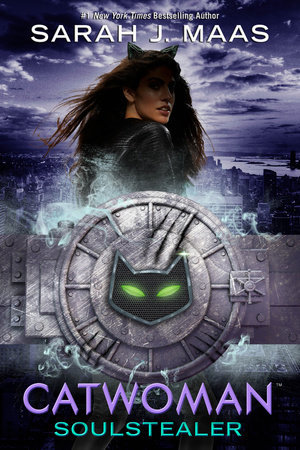 When the Bat's away, the Cat will play. It's time to see how many lives this cat really has. . . .
Two years after escaping Gotham City's slums, Selina Kyle returns as the mysterious and wealthy Holly Vanderhees. She quickly discovers that with Batman off on a vital mission, Batwing is left to hold back the tide of notorious criminals. Gotham City is ripe for the taking.
Meanwhile, Luke Fox wants to prove he has what it takes to help people in his role as Batwing. He targets a new thief on the prowl who seems cleverer than most. She has teamed up with Poison Ivy and Harley Quinn, and together they are wreaking havoc. This Catwoman may be Batwing's undoing.
In this third DC Icons book–following Leigh Bardugo's Wonder Woman: Warbringer and Marie Lu's Batman: Nightwalker – Selina is playing a desperate game of cat and mouse, forming unexpected friendships and entangling herself with Batwing by night and her devilishly handsome neighbor Luke Fox by day. But with a dangerous threat from the past on her tail, will she be able to pull off the heist that's closest to her heart?
My Reflections
So, here's the thing – I can't call myself a superhero fan. Besides the O.G. Superman films with the late Christopher Reeve, Hugh Jackman as Wolverine and Wonder Woman I just don't get the appeal. D.C. or Marvel. Honestly, I was just here for Sarah J. Maas's writing because I am actually certified trash. It goes without saying that Catwoman was the one book on my TBR that really surprised me in 2018. I devoured Catwoman! Compelling female anti-hero aside, Catwoman is the ultimate story of girl power and sticking it to the man.
My Catwoman review can be found here
---
Everless by Sara Holland [4.5 Stars]
Time is a prison. She is the key. Packed with danger, temptation and desire – a perfect read for fans of The Red Queen.
In the land of Sempera, the rich control everything – even time. Ever since the age of alchemy and sorcery, hours, days and years have been extracted from blood and bound to iron coins. The rich live for centuries; the poor bleed themselves dry.
Jules and her father are behind on their rent and low on hours. To stop him from draining himself to clear their debts, Jules takes a job at Everless, the grand estate of the cruel Gerling family.
There, Jules encounters danger and temptation in the guise of the Gerling heir, Roan, who is soon to be married. But the web of secrets at Everless stretches beyond her desire, and the truths Jules must uncover will change her life for ever … and possibly the future of time itself.
My Reflections
Everless was another unexpected read and one of the first few books read in 2018 at that. I have to admit that originally I picked up Everless because of that intriguing cover. Imagine my surprise when I realized that the story inside was just as intriguing! Everless became an obsession of mine. Full of mystery, Everless kept me up at night with it's shifting allegiances and twisting plot. I also loved Sara's writing style, which, for a debut had a very strong voice.
---
Anne of Green Gables by L.M. Montgomery [5 Stars]
'It's a million times nicer to be Anne of Green Gables than Anne of nowhere in particular, isn't it?'
My dislikes: Being an orphan, having red hair, people twitting about my red hair, being called "carrots" by Gilbert Blythe.
My likes: Living at the Green Gables with Marilla and Matthew Cuthbert, my bosom-friend Diana, dresses with puff sleeves, renaming Barry's pond the Lake of Shining Waters, coming top of the class.
My regrets: Dyeing my hair green. Smashing a slate over Gilbert Blythe's head.
My dream: To tame my temper. To be good (this is an uphill struggle). To grow up to have auburn hair!
My Reflections
Anne of Green Gables was the perfect book for the perfect time. I had just lost my little bunny rabbit Buneary after 10 years and was feeling lost and very lonely. That was until I became "bosom friends" with Anne (with an e) Shirley.  I laughed. I cried. Then, somewhere between the pages I found my inner-child and fell completely in love with L.M. Montgomery's iconic little red-headed orphan. Anne of Green gables made me really stop and think about the person I had become and how, no matter what life decided to throw at me, I couldn't lose my sense of child-like wonder and imagination. Anne made me realize that life is all about the little things and we need to appreciate what we have.
My Anne of Green Gables review can be found here
---
Kingdom of Ash by Sarah J. Maas [5 Stars]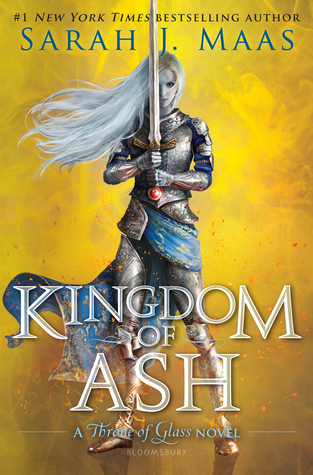 The final battle is here.
Aelin Galathynius has risked everything to save her people – but at a tremendous cost. Locked in an iron coffin by the Queen of the Fae, Aelin must use all her fiery will to endure the torture inflicted upon her. If she yields to Maeve she will doom everyone she loves, but her resolve is beginning to unravel…
With Aelin imprisoned, her friends must go on without her. Some bonds will deepen, while others will be severed forever. But as destinies weave together at last, all must unite as Aelin fights to save herself – and the promise of a better world.
My Reflections
And the award for best book for 2018 (and worst book hangover) goes to…
Kingdom of Ash was the book I'd been gearing myself up to read since Empire of Storms's gut wrenching clift-hanger of an ending in 2016. That being said, I don't think any of us wanted to close the door on Throne of Glass and certainly none of us were prepared for what has come to be known as the worst book hangover since A Court of Mist and Fury. Kingdom of Ash was a maelstrom of adventure, action, violence and blood letting (emphasis on the violence and blood letting). I sobbed, cheered, cried, laughed and screamed my way through the immense pain and bittersweet ending that was Kingdom of Ash and as the darkness claimed me at the final page the only thing I knew was that Kingdom of Ash was the prefect finale – one worthy of a song.
My Kingdom of Ash spoiler free review can be found here
My Spoilery 100 thoughts I had while reading Kingdom of Ash can be found here
---
So there you have my definitive list of the best and worst books (in my opinion) that I read in 2018. In hindsight, compiling my list was no easy feat. What with so many re-reads and all. That being said, there were still plenty of honorable mentions but if I could list all of my thoughts and reflections we'd be here until 2020. 😉
Keep your eyes peeled for my upcoming 2019 TBR
Also, what were your favorite reads in 2018? I'd love to hear from you in the comment section below. Especially if you have any recommendations I can add to my priority list for 2019.