Boys and girls of every age – wouldn't you like to see something strange? Come with us and you will see, this our town of Halloween…
This is Halloween! This is Halloween! Halloween! Halloween! Halloween! HALLOWEEN!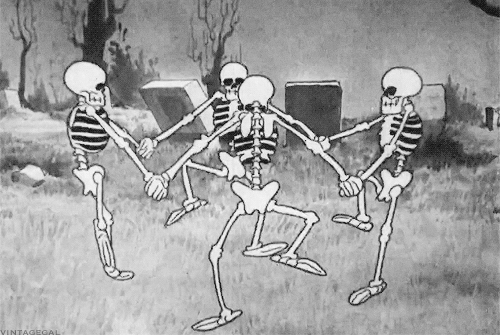 It's both a tragic and deeply depressing truth but Halloween isn't really a thing in Australia. *gasps*. The fact remains that while the rest of the world is celebrating the harvest season, down under we are in the height of spring. Needless to say, unfortunately pumpkins are in short supply.
But that won't stop this girl from celebrating the spooky month with the appropriate moody reading material and way too much enthusiasm. Sue me.
Since I was in school, Australia has been ever-so-slowly playing catch-up but Halloween still isn't nationally celebrated and it's definitely not mainstream. Sure, you'll see a few little kids out and about with pumpkin shaped buckets but, Halloween isn't fully embraced. Not yet anyway.
Talk about a missed opportunity!
At it's core, Halloween is about community- sorry kids, but it's not just the ghouls and candy. Deeply rooted in the Celtic festival Samhain, Halloween celebrates neighborhood by encouraging connection and unity with trick-or-treating and festivities. So why then are there so many opposing opinions? Maybe it's the stigma of demon worship and witch craft? Maybe it's the whole stranger-danger thing? Or, is it American commercialization?
See what I mean – there isn't one simple answer. What ever the reason though, any holiday which evokes the sense of community and inspires the embracing of different cultures should be recognized. That is why Australia, and Australian's alike, need Halloween. With the general political climate, we could all use a little more unity.
But unity and neighborhood aside, Halloween is a holiday which, much like Christmas spreads so much joy and happiness. And I'm not just talking about the kids. Halloween gives us the chance to completely gorge ourselves on candy and chocolate, forsaking our waistlines. It's the chance to get creative, designing fun, ironic costumes to show off at parties and spooky events. Then there's the Halloween specials, the scary movies and, of course – pumpkin spice lattes!
The plus side? Halloween doesn't require messy family reunions or dinners and there's no need to exchange cards or gifts. I mean, what's not to love???
But all is not gloom and doom;
With each year the Halloween isles are getting bigger and brighter. With social media and pop culture playing a huge role in the shaping of the millennial revolution, young Australians are clamoring for Halloween to be acknowledged. And it isn't as far away as it would seem. Melbourne's Spooktober and Luna Park's Luna Dark are uniting for a "fright-fest" costume party. Victoria's Star Cruises is even hosting a Titanic zombie themed boat party. It won't be long before we see Halloween fully erupt on Australian streets.
But how do we make that happen quicker? We celebrate Halloween together of course! Take your kids trick-or-treating, dress up with your friends and work colleagues, decorate your house with cobwebs, throw Halloween parties and basically just spread the spooky cheer. #theycantstopusall.
Which brings me to my October bucket list. Wow – talk about a roundabout adventure, right? This October, I'm going to forsake spring for the month and fully embrace those fall vibes. I've decided that I'm going to have the best October ever and here's how I'll do it:

How are you celebrating Halloween this month? Do you have your own fall-inspired bucket list? I'd love to hear all about it! Be sure to leave me a comment below. Happy reading ghouls!