Deja and Josiah are seasonal best friends.
 Every autumn, all through high school, they've worked together at the best pumpkin patch in the whole wide world. They say good-bye every Halloween, and they're reunited every September 1.
But this Halloween is different. Josie and Deja are finally seniors. It's their last season at the pumpkin patch, their last shift together – their last good-bye.
Josie's ready to spend the whole night feeling melancholy about it. (He's the melancholy type.) But Deja has a plan: What if, instead of moping and instead of the usual – slinging lima beans down at the Succotash Hut – they went out with a bang? They could see all the sights! Taste all the snacks! Maybe Josie could finally talk to that cute girl he's been mooning over for three years . . .
What if their last shift was an adventure?
Beloved writer Rainbow Rowell and Eisner award-winning artist  Faith Erin Hicks have teamed up to create this tender and hilarious story about two irresistible teens discovering what it means to leave behind a place – and a person – with no regrets.
They say that hindsight is 20/20.
How many times have you looked back on a moment in time, a milestone and realized that you have no regrets? Not one?
If your answer was something along the lines of "oh, maybe a few times" – lies!
When we remove those rose colored glasses, it's easy to spot the paths not taken, the opportunities missed or angst over the things you can't now change. Maybe it's that guy you mooned over all high school but never approached? Maybe it's that job you turned down? Maybe it's the college you didn't go to and the things left unsaid.
 Whatever those regrets might be, I think we can all agree that some events mark the last night before the rest of your life. You all know what I'm talking about – it's the feeling of knowing that one chapter is closing and a new one beginning. That feeling the night before your wedding, or as you walk across the stage to accept your diploma.
That, that feeling of anticipation and nostalgia is exactly what Pumpkinheads captures as Deja and Joise, seasonal best friends, prepare to leave their days at the pumpkin patch – and their childhood – behind forever.
It's a surprisingly deep story about last chances and change masquerading behind the facade of a quirky graphic novel about the American fall. While Pumpkinheads definitely has that fall vibe, what with the sprawling pumpkin patch backdrop, Pumpkinheads is a charming book that can be savored and enjoyed any time of the year.
At the beating heart of Pumpkinheads is it's adorably awkward protagonists; Joise and Deja. Despite being a graphic novel, Joise and Deja are well-rounded and fully fleshed out, giving them a relatable, realistic feel. That and the fact that we have some seriously welcome representation. Deja is a strong young woman who is unapologetically herself and confident in her curvy beauty. She is the driving force in the friendship and supports Joise's more introverted nature. Joise, in comparison, is quiet, shy and charming.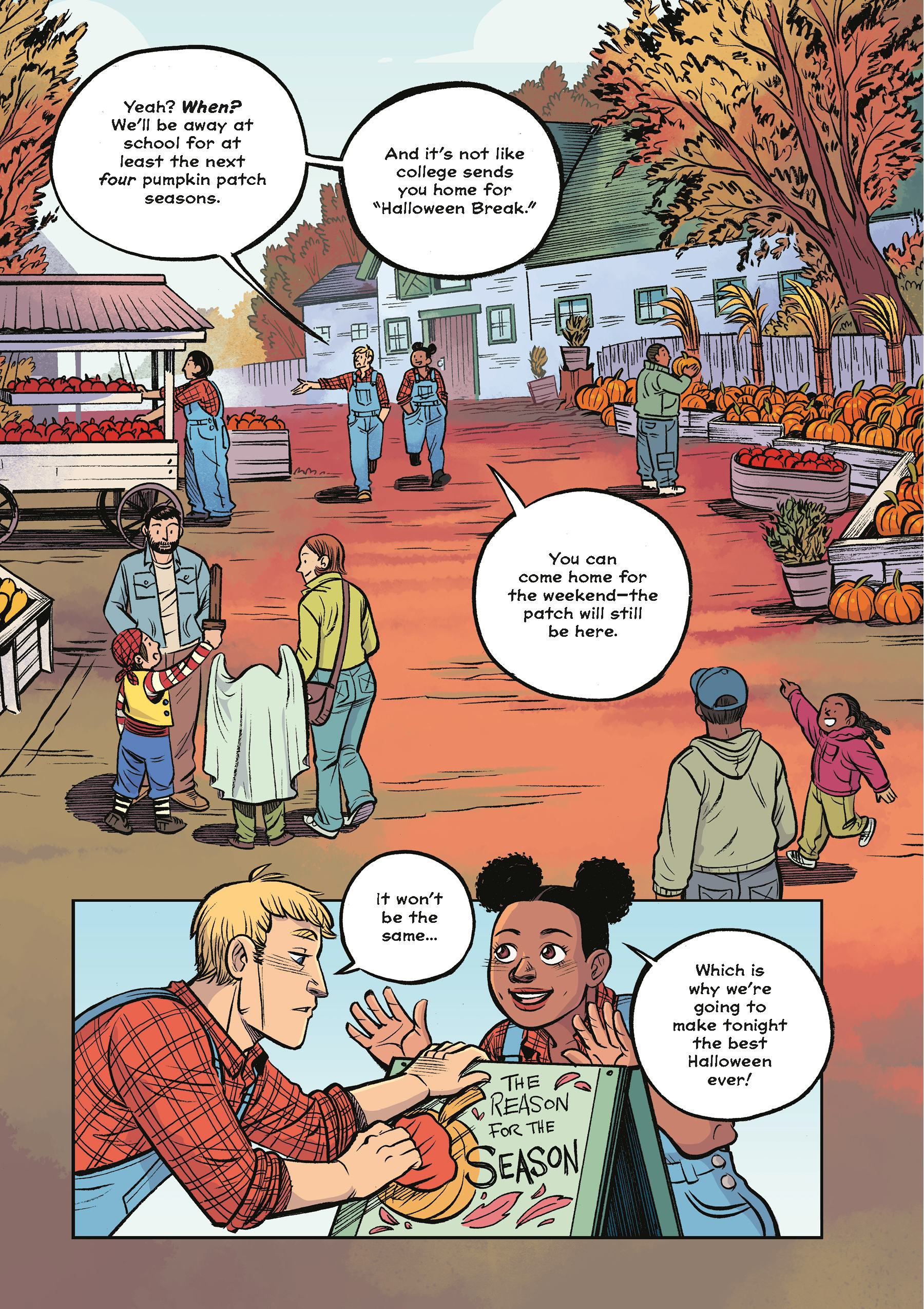 Then there's Faith Erin Hick's beautiful illustrations. Obviously being a graphic novel, illustrations play a significant role in bringing the world of Pumpkinheads to life. Dialogue and prose take a back seat while the paneled graphics work to express mood, emotion and setting. Pumpkinheads has a warm, cozy pallet of tangerine, amber, indigo and russet that slowly darkens in tone as the story progresses. It just feels like pumpkin spice latte goodness on a crisp Autumn morning.
And don't even get me started on the pumpkin patch itself. *insert heart eye emoji here*. No, this is not your average seasonal pumpkin patch. If you love Disneyland in the fall prepare to be blown away with petting zoos, stalls, a s'more pit, a corn maze, endless pumpkin fields and hayrack rides. The best part? Being a graphic novel, and with Faith Erin Hick's simplistic, vibrant graphics, the patch jumps off the page. You get to immerse yourself and experience every wholesome corner of the patch.
Whether you're a fall person or not, Pumpkinheads is a charming book best savored on a rainy afternoon with hot tea or pumpkin soup, a cozy sweater and the obligatory candle. Yes, it's a serious mood book with it's Halloween setting and fall vibe but it's deep underlying message of regret and last chances make for a heartfelt plot that can be enjoyed any time of the year. Pumpkinheads might just have converted me from a summer baby to fall.