The festive season is very nearly upon us – in just a few short days it'll be December first! That means advent calendars and singing carols by candlelight. It means snowflakes and stockings hung by a cozy fire, the smell of mince pies and Christmas pudding wafting from the kitchen. It means gingerbread and mistletoe and sugarplums and cheesy Christmas movies…
And oh my god – can you tell how much I freaking love Christmas???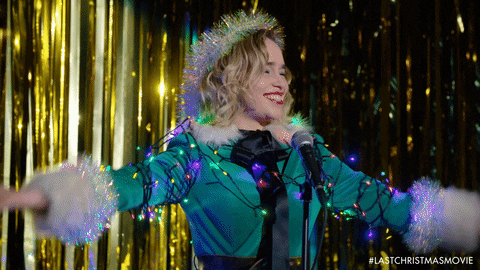 There's just something about the holiday season that makes me feel all nostalgic and joyful. Let it be known that Christmas is my holiday – if I could runaway to the North Pole and become an elf I would. So, as Michael Bublé emerges from his cave you can bet that I'll be celebrating the holidays with the appropriate festive reading material and way too much Christmas cheer.
Now I'm not going to get into the "true meaning of Christmas" and all that. That's not what this post is about. That's a big ol' can of worms that we're not going to open. After all, Christmas or the holiday season means something different to everyone.
To me, what the holidays are about, despite the obvious [let's address the elephant in the room – yes I attend Christmas mass], is not the presents, the carols or even St Nicholas himself. Universally, the spirit of this magical season is about humanity, hope and love – and that's something that we can all agree on regardless of culture or religion.
It's the time of year where we come together as a community. We put aside our worries, our grief and focus instead on the spirit of humanity and the selfless act of giving.
But, like I said, the true meaning of Christmas is a can of worms and we would be here until next Christmas if I tried to break it all down. Basically, whatever your beliefs, this is a season of hope and love.
Which brings me to the true meaning of this post – actually the first reason because I have more surprises in store. Because Christmas is my favorite time of year and I intend to celebrate the season with the appropriate festive activities I wanted to share my Christmas bucket list. Behold:
I might have had just a little too much fun designing the graphics. You just know I was listening to Christmas carols the entire time.
Which brings us to the second reason for this post. All you smart little gingerbread cookies might have already guessed. After all – I did scatter a little clue in the title and the bucket list itself…
Is that light bulb working yet?
Surprise! I'll be hosting my very first Read-Along in which we'll be reading two very christmassy books together! Yay!
A Christmas Carol is one of my favorite books of all time and I always read it every year along with the modern retelling the Afterlife of Holly Chase. Not only did I owe these incredible books a review this year but I figured why not read them together? Both books are the epitome of festive reading material – they explore second chances against a backdrop of sugarplums and snowflakes.
Okay so what are the rules?
There isn't really any rules – unless you count "have fun" as a rule.
Basically from 11th of December till 17th of December we'll read A Christmas Carol together. Then, from 18th of December till 24th of December we'll read the Afterlife of Holly Chase.
And, because what would a festive buddy read be without a discussion, I'll be setting up a group read chat on Instagram so we can share our thoughts and interact.
How are you celebrating the holiday season this month? Do you have your own Christmas inspired bucket list? I'd love to hear all about it! Be sure to leave me a comment below and let me know if you'll be joining the Read-Along. Happy reading!