The year was 2016, I was struggling with my mental health and I had just dipped my toes into the world of high fantasy fiction. Having just finished Throne of Glass, I quickly became obsessed with the genre and swept away by the story of a would-be assassin's fight for freedom.
But it wasn't long before I realized that nobody in my personal life wanted to hear me rave about this book. I needed to find my people. And so, Books and Tea Leave – the blog that would eventually become Reading by Starlight – was created. You can see that I owe Miss Maas a lot.
So while we wait for her new book Crescent City: House of Earth and Blood, let's have some fun with The Throne of Glass Book Tag. Before I get into the questions, I have to send some love to Carly from Reading is My Kind of Thing. Carly is one of my favorite bookish people and I never miss her reviews. Thank you for the tag Carly! ❤
Lysandra: A book with a cover change you loved
I have a deep and seething hatred for cover changes. You know – if it ain't broke, don't fix it. Nothing get's my blood curdling like a mid-series cover change. I'm looking at you An Ember in the Ashes. But, gun to my head, over the course of twenty-plus years, Harry Potter has seen some beautiful editions. Now before you start sharpening your pitchforks, the original first editions are unrivaled. I'm just saying that I have a soft spot for the Scholastic editions.
Abraxos: A book that's better on the inside than it looks on the outside
Fest your eyes on this monstrosity – i'll give you a moment to take it all in. Honestly, what the actual heck were the design/marketing team thinking when they coined "Vampire Academy" then slapped it with that ungodly trashy cover??? Yikes. This cover is criminal, painting what is actually an action-packed series unjustly. Considering it features one of literature's best portrayed female friendships we deserve a cover with a little more substance than that.
Erilea: A series with great world-building
Song of the Current is one of those books that rears it's head in every tag I do – and for good reason. It features one of fantasy's most atmospheric water worlds, full of sailor lingo and rich sea god/river mythology. Set in the fantasy world of the Riverlands, Song of the Current weaves a world of dark murky rivers and shabby port towns home to pirates, smugglers, frogmen and the wherry folk. And the way Sarah Tolcser creates atmosphere… there are just no words.
Rifthold: A book that combines genres
It's a fact universally acknowledged, that a truly good book transcends genre. And you can fight me on that. Critics disagree but I've read plenty of books whose intricately woven plots can't be confined to the expectations of just one genre. Need proof? Take a look at Alexandra Bracken's Passenger. Passenger is a sweeping epic worthy of it's own Hollywood blockbuster. The plot, featuring a treasure hunt through time blends elements of adventure and fantasy with historical fiction, romance and some war-time action.
Damaris: A book based on/inspired by a myth/legend
The Guinevere Deception has been on my radar since falling in love with Camelot through Once Upon A Time. While clearly based off the medieval Arthurian legend, Kiersten White weaves her story a little differently. Our familiar heroes Arthur, Lancelot and Merlin are pushed to the status of supporting character while it's princess Guinevere who takes the helm. I mean, can I get a HELL YEAH for #girlpower? This is so not your grandfather's traditional round table story.
Kaltain Rompier: A book with an unexpected twist
Most of you probably know that I've recently become OBSESSED with The Folk of the Air – it's basically all I've been screaming about. This series, set in the dark faerie world of Elfhame, is full of schemes, plots, backstabbing and jaw dropping plot twists that leave you gaping. That being said, all the plot twists in the series couldn't hold a candle to that final nail-in-the-coffin twist around the 70% mark in The Queen of Nothing. I mean, what a freaking game changer. I'm still reeling.
Assassin's Keep: A book with an unreliable narrator
Little known fact: Lolita [which is nothing less than a masterpiece] is my favorite controversial "banned" book. Notorious for it's erotic subject matter and perverted, unreliable narrator. Humbert Humbert takes on the role of both protagonist and antagonist. Humbert – really a slimy, vile pedophile – sways the reader into sympathy by dehumanizing Lolita, painting her as a gum-smacking temptress in a pinafore. It's a dark and twisted story of abuse veiled by Humbert's romantic prose.
Asterin Blackbeak: A book that's got SQUAD GOALS
Clearly, I'm trying to think outside of the square here. I mean, you all know I wanted to feature the inner circle but let's try to be a little more diverse, okay? If there was one squad that could compete it would be skyward flight, aka only the best flight school squad ever. Brandon Sanderson's space epic Skyward can only be described as Top Gun in space. Full of dogfights and hi-jinks and one of the best team dynamics in modern literature. Skyward flight swept me away – I felt like I was apart of their unlikely team.
Terrasen: A book that feels like home
The Twilight Saga will always be my bookish home. You can say what you want about this problematic romance but Twilight had such an impact on my teen years. I had my pristine special editions – which never left my shelves – and then I had a poorly contacted, dogeared "travelling" edition that practically followed me everywhere. Let's face it – I was probably more obsessed with Edward Cullen than Bella herself. I fell in love with the brooding vampire as well as the sleepy, seriously moody town of Forks, Washington.
Aelin Ashryver Galathynius: A book with the power to destroy you
Sarah J. Maas knew that she had the power to destroy us all when she sat down to pen Kingdom of Ash. Talk about a freaking book hangover! Kingdom of Ash is EVERYTHING. It's a sweeping, breathtaking and emotional maelstrom almost too much to handle. I snot-cried relentlessly as my beloved, crestfallen heroes were pushed to the breaking point. When I thought I had nothing left to give, I cried for the last eighty-odd pages straight. I still haven't recovered.
Manon Blackbeak: A book that intimidated you
After watching the movie adaption on Netflix during a particularly rainy day I discovered an obsession with all things Jane Eyre. [And Michael Fassbender's Edward Rochester but that's a whole other story]. Immediately after, I rushed out to pick up the Penguin edition and yet it took me a full six months before I could actually work up the nerve to start it. Jane Eyre is intimidating, okay? Anyway, I soon found that my fears were useless because I utterly adored this feminist classic.
Rowan Whitethorn: A book that makes you swoon
If you like your Rom Coms with a little more substance fest your eyes on Well Met – a classic enemies-to-lovers affair in-character at a Renaissance Faire. Like, just take my money! Carly and I recently buddy-read this book for the month of love and weren't disappointed. Emily and Simon downright detested each other but their Faire counterparts; Captain Blackthorne and Emma, were kind of thrown together and a delicious flirtation ensues. And it may or may not get a little out of hand… Boasting a serious Hallmark Channel vibe, Well Met left me in a melted puddle of goo from all the swooning.
Chaol Westfall: A book that challenged you to see things differently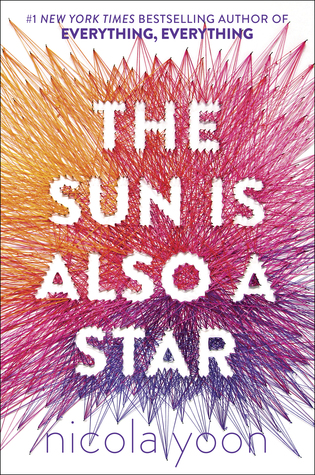 The Sun Is Also A Star is counted among my favorite books of all time – and for good reason. It's a surprisingly philosophical story about fate grounded in scientific fact. Featuring a cast of diverse characters, on the surface The Sun Is Also A Star is about Natasha, an illegal immigrant who has one day to save her family from being deported. It's a lesson in the impact of choices and actions, it's a lesson in kindness and it proves that one day can change EVERYTHING. Basically, this book will make you think about the role you play in this world.
Fleetfoot: A book that you received as a gift
If there was any one series that could come close to rivaling Twilight for nostalgia it would be House of Night. I was in eighth grade and that post-Twilight era when I came across a dogeared copy of Marked in my school's library. From the very first page I was hooked and since then, House of Night has become my go-to guilty pleasure. But while the library might have introduced me to our girl Z and the nerd herd, it was my best friend who gifted me my first copy of Marked and kick started my collection.
Eye of Elena: A book you found right when you needed it
The Secret Garden was everything I needed when I picked it up for another re-read. I had just lost pet bunny who had past away after 10 years so you can imagine I was feeling lost and very lonely. The Secret Garden enveloped me like a warm blanket and got my through my grief, rekindling my love for vintage classics. Mary Lennox's story is the perfect antidote for whenever you're feeling blue. It's a charming coming-of-age story where friendship blossoms and a magical garden mends a broken family.
[Carly's Bonus Question] Dorian: A book that is secretly magical
If there was ever a book that Dorian would love, it would be Erin Morgenstern's lyrical fantasy, The Night Circus. A book for the senses, The Night Circus presents a sprawling world of magic and whimsy. The circus itself, Le Cirque des Rêves, is absolutely breathtaking. A magical labyrinth painted entirely in shades of black and white, Le Cirque des Rêves travels the world and is only open to the public at night. The Night Circus is a story world that could only exist in our wildest dreams.