The Mystery Blogger Award celebrates discovering new blogs and inspiring posts and isn't that such a lovely idea?
In the creator's own words; "The Mystery Blogger Award is an award for amazing bloggers with ingenious posts. Their blog not only captivates; it inspires and motivates. They are one of the best out there, and they deserve every recognition they get. This award is also for bloggers who find fun and inspiration in blogging; and they do it with so much love and passion."
– Okoto Enigma
This is my second take at the Mystery Blogger Award and I was lucky enough to be nominated by two lovely ladies – Jamie and Julie. These ladies have amazing blogs so please go and show them some love. You can find Jamie over at Bubbly Books and Julie at One Book More. Thank you so much for the nominations! 💙
☆ Put the award logo/image on your blog
☆ List the rules
☆ Thank whoever nominated you and provide a link to their blog.
☆ Mention the creator of the award and provide a link as well
☆ Tell your readers 3 things about yourself
☆ You have to nominate 10 – 20 people
☆ Notify your nominees by commenting on their blog
☆ Ask your nominees any 5 questions of your choice; with one weird or funny question (specify)
☆ Share a link to your best post(s)
Three Things About Me
☆ Reading by Starlight's aesthetic was inspired by my deep fascination with the night sky and my obsession with all things Night Court.
☆ Speaking of the stars, I've always loved studying the mythology behind our constellations and charting the stars. I'm by no means as astronomer, but one day I would love to own a deep space telescope.
☆ When I can get the time, my favorite place to escape to is the Great Ocean Road along the Victorian coast. Not only do we have some of the best surf in the world but I love canoeing up the Anglesea River. As Pocahontas said: you can't step in the same river twice – the water's always changing, always flowing. Next up, I want to take a horse back trail ride through the Spring Creek Valley and Otway National Park.
My Best [Recent] Posts
☆ 5 Things You [Probably] Didn't Know About the RMS Titanic
☆ Five Things I've Learnt Living Alone
Jamie's Questions:
1. Book you've read that you could angry rant about for at least five minutes?? (my weird/special Q)
I think most of you will already know the answer to this one…
My arch nemesis in book-form is Wintersong by S-Jae. Jones. I mean, I could angry rant about this stupid excuse for a book until the freaking cows come home. And for good reason. There is a complete and utter lack of plot and the characters are bland and whiny AF. Especially the "ugly" protagonist and underwhelming antagonist/love interest. All I'm going to say is that Wintersong is a supposed YA Labyrinth retelling more along the lines of 50 Shades of Goblin King. There are some serious consent issues and honestly, the world didn't need this cringey trash. Just saying. Not to mention that S-Jae. Jones pisses all over David Bowie and Jim Henson.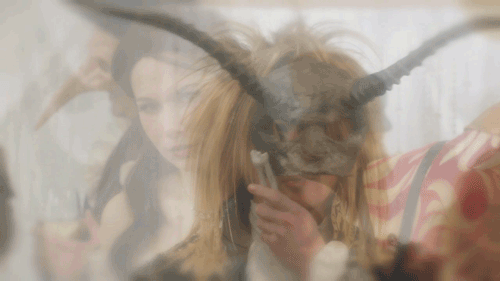 2. If you could travel anywhere during any point in time where/when would you go?
Okay, first of all – what an amazing question, second of all – how the heck do I choose just one??? There are so many historical events I would want to hit up! But, I would travel back to April of 1912 and sail on the RMS Titanic's maiden voyage across the transatlantic.
After checking my baggage, I would board in Southampton and travel first class, accompanied by a chaperone [probably a governess or aunt] and a maid [more of a friend than servant]. The journey would be spent wandering the decks and sneaking off into the third class. My maid and I would disguise ourselves as immigrants, drinking beer and dancing well into the night. I would also probably have an affair on-board with some first-class-Will-Herondale-type and let's face it, would get up to all kinds of trouble. When the journey becomes a race for survival, I would pass my maid off as an heiress and sneak her into my lifeboat.
3. A book or TV show romance (or just TV show if you're not a huge fan of romance!) you cannot stop recommending or telling everyone you know about?
Stop what you're doing and allow me to introduce you to Lucy Hutton and Joshua Templeman, only the HOTTEST enemies-turned-lovers couple EVER. I freaking LIVED for The Hating Game – it's deliciously sexy and sinfully addictive, basically my favorite Rom Com ever.
Let me give you a quick run-down:
Lucy Hutton hates Joshua Templeman. Absolutely loathes him. As in arch-nemeses, perpetual rivals, I-hate-you-so-much-I-could-choke-you kind of hate. And the feeling's mutual. Locked in a corporate war, everything changes when a promotion is announced and their rivalry is kicked into high gear. All I'm going to say is that The Hating Game oozes sexual tension…
4. What's your favorite color? (mine's pink haha!)
I feel like this is such a cop out but honestly, my favorite color changes depending on my mood. I love beach tones, especially shades of blue, purple and sea foam green. I guess if I could only pick one it would have to be blue – dusty French provincial blue if I'm being picky.
5. Whats your go to comfort read?
I've just re-read the Twilight Saga [again] in isolation and I've been reminded that this series is, hands down, my favorite ever. And I'm not going to apologize for that. Re-reading Twilight as a twenty-something is nostalgic, comforting and all-consuming – I could honestly stay folded between the pages of Forks, Washington forever. Whenever things get tough, whenever I'm in need of an escape, I retreat into Bella's world. The characters are authentically imperfect and their emotions pliable. Reading Twilight feels like coming home.
Julie's Questions:
1. What imaginary world from a book would you most want to live in?
Ahhhhh, I'm going to be super stereotypical here and say Hogwarts School of Witchcraft and Wizardry because I am cliched. But seriously? A magical boarding school in a sprawling gothic castle? Who wouldn't love to attend Hogwarts??? Obviously I would be in Griffindor, I would practically live in the library, take tea with Hagrid, sneak off into the Forbidden Forest whenever I could and spent my nights stalking the halls, conversing with ghosts.
2. Name three books (or book series) that you think should be required reading in high school or university.
Journey to the River Sea by Eva Ibbotson, The Night Circus by Erin Morgenstern and The Martian by Andy Weir.
3. What are you currently reading?
With the escalating current situation I've found myself meandering on the precipice of a reading slump. In an attempt the save my goodreads challenge and my seasonal depression, I decided to re-read Erin Hunter's Warriors Saga. I've picked up where I left off last year with the second arch; the New Prophecy.
The New Prophecy was actually my favorite Warriors arch as a teen. I loved the sisterhood and bond between Leafpool and Squirrelflight and the bleak tone of the plot. I mean, the clan's quest to find a new home has all those Watership Down vibes [but you know, just with wild cats]. I'm currently reading Starlight [the fourth installment] and I've realized that while the later books are fun, they don't hold a candle to the original arch. The New Prophecy is more of a slow-burn in comparison and episodic in feel.
4. What is your favorite book-to-film adaptation?
The Twilight movies. Okay, I realize my inner teenage girl has clawed her way out in this post but come on – vampire freaking baseball. That scene is a cinematic masterpiece and you can literally fight me on that. These movies basically defined my generation.
5. (My fun/weird question) If you were shipwrecked on a deserted island, and all of your basic needs (food, water, etc.) were taken care of, what two items would you want to have with you?
Okay, LOVE this question. I've always been obsessed with the idea of being shipwreck on an island – you can thank the Simpsons and Barbie as the Island Princess for that [who wouldn't want to live in a tropical tree house with exotic animal friends???]. If I had food, water and some medical supplies with me I would want my phone [with an everlasting battery] and my headphones – I could face down anything with the right soundtrack.
Caitlin | Danielle | Daria | Ellyn | May | Octavia | Sara | Siobhan | Skye | Vanessa | YOU
☆ Describe yourself using three characters
☆ Your most hated movie adaption and why
☆ Pick your favorite TV show – what's your favorite episode and why?
☆ Which is your favorite Shadowhunters series? [The Mortal Instruments, The Infernal Devices or The Dark Artifices?]
☆ You have been given a magical quill which grants it's user the power to change a fictional character's death. Who are you saving and why? [my fun/weird question]