Fun fact: my step-dad's actually a super talented chef. It's a pretty sweet deal – what with all the cinnamon cookies he bakes me. Still waiting on that next batch, Wayne. I've been very lucky because my step-dad taught me everything I know but no one – and I mean no one – bakes like he does. [Just try his house made tiramisu with frangelico *drools*].
Anyway, get ready to start salivating because today I'm doing The Bookish Baking Tag which combines two of the best things on earth: sweet treats and books. Honestly, is there anything better than a piping hot cup of tea, a cinnamon cookie and a good book? This is an original tag created by my bookish bestie, Kay from Hammock of Books. In true reading by Starlight fashion, this tag is WAY overdue. You know what they say – better late then never right?
So, thank you so much for tagging me to participate in your amazing [and seriously drool-worthy] tag, Kay – sorry it's taken me so long! 💙 Be sure to check out Kay's blog – I never miss a post and neither should you!
☆ Thank whoever tagged you
☆ Link back to them and the original creator (Kay @ Hammock of Books)
☆ Answer the 12 prompts, and feel free to use these graphics
☆ Tag 5+ friends to share the sweetness
Right off the bat, The Queen of Nothing thrusts us straight into the action. Before we even find our footing we're caught up in Jude's new normal – living as the exiled Mortal Queen of Faerie. This girl's got some serious gumption and I freaking live for it. Let's just say Jude's more than willing to play dirty in order to survive on the outside.
I re-read The Afterlife of Holly Chase every holiday season – it's the perfect festive mood read. Holly Chase is selfish, vain and vindictive. She's also dead. Now she serves out her eternal punishment at Project Scrooge, working as the resident Ghost of Christmas Past. Set against a backdrop of snowflakes and sugarplums, The Afterlife of Holly Chase is a heart-warming story about redemption, hope and the power of second chances.
Fact: if you look up the phrase "cinnamon roll" in the dictionary you'll find "see; Abraxos". True story. In Heir of Fire, the general scope of the series expands and we're introduced to some key characters. One such character is the lovable wyvern, Abraxos. Abraxos is actually the definition of a cinnamon roll. Despite his violent upbringing as a "bait beast", Abraxos is fiercely loyal and loves wildflowers.
In my opinion, Jenny Han's The Summer I Turned Pretty is the holy grail of summer contemporary novels. It's also better that To All the Boys I've Loved Before. There's just something about Jenny's writing, the way she captures Belly's voice, that's so nostalgic – it just screams summer. My go to destination read, this book feels like driving along the coast with the windows rolled down.
I've been re-reading Erin Hunter's sprawling Warriors Saga for the past eleven years so I think it's safe to say that these books are pretty darn nostalgic to me. The Warriors books are a feline fantasy series – think Watership Down but, you know, just with feral cats. Consisting of over seventy books, there's plenty of action, violence and bloodshed as the cats literally fight to survive.
I haven't shut up about Lolita since I read it last year. Honestly I was just blown away by the confronting, deeply poignant plot and Vladimir Nabokov's unnervingly romantic prose. That being said, Lolita is not for the faint of heart. Basically the jail cell confession of a pedophile, Lolita is the story of Humbert Humbert's obsessive infatuation with his teenage step daughter. If you want to study English, if you want to write than Lolita is a must read.
I honestly can't understand why more people aren't talking about Song of the Current. I mean, it's criminally underrated and I will never stop raving. If you like a good jungle setting, if you like sexy swashbucklers than do yourself a favor and pick this fantasy duology up stat. An epic adventure with a sensory, watery setting, Song of the Current boasts a feisty, independent heroine more than capable of setting her own course.
The Selection is pure fluff but in the best possible way. I mean, The Selection's basically a dystopian version of The Bachelor. Okay, so it's not the most sophisticated book on the market. The plot's riddled with overused tropes and there's a seriously forced love triangle but The Selection's a certified guilty pleasure, guaranteed to save any reading slump. There's plenty of romance, drama and angst to keep you fully invested.
Pumpkinheads is a surprisingly deep story about the paths not taken and last chances masquerading behind a cute, quirky graphic novel. Deja and Joise are seasonal best friends working their last shift at the Pumpkin Patch. The novel follows their misadventures across the Patch as they vow to have the best night ever. Pumpkinheads perfectly captures that feeling of anticipation as you leave childhood behind – it teaches us to live with no regret.
Can you believe I was introduced to Jane Eyre through Netflix? It was a gloomy, rainy day, I was flicking through my library, looking for something to watch when I stumbled upon Jane Eyre. Afterwards, I was hooked. I also may or may not have fallen in love with Michael Fassbender. Naturally, I rushed out to buy a copy but fast-forward six months and I still hadn't read it yet. Suffice to say, I was seriously intimidated – you know how it is with classics. Anyway, I finally swallowed my fear and dived in. Spoiler alert: it's now one of my favorite books.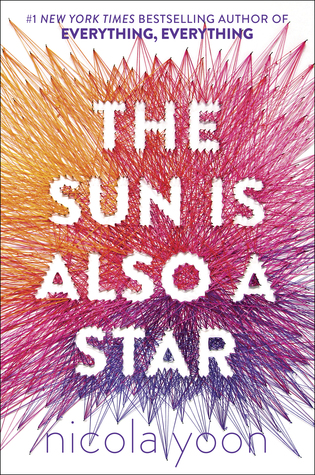 I'm 99.9% sure that The Sun is Also a Star rears it's head in every tag I do – and for good reason. Not only does it feature an amazingly diverse cast of characters but it's a deeply philosophical novel about fate grounded in scientific fact. Natasha is an illegal immigrant and she only has one day to save her family from being deported to Jamaica. It's about cause and effect and the gathered consciousness of the universe
Serpent and Dove was EVERYWHERE when it released late last year. EVERYONE was reading it. So naturally, I avoided it like the plague. Big Mistake. Big. HUGE. This book was freaking phenomenal – it definitely lived up to my Brendon Urie high, high hopes. Deliciously dark and complex, Serpent and Dove features an enemies-turned-lovers romance between a witch and a witch hunter with a serious Hunchback vibe.
Belle | Carly | Daria | Luna | YOU