On the off chance that I ever won the lottery, I'd buy a one-way ticket to see the world.
Unless you are a Reading by Starlight newbie [in that case – welcome!], it's no secret that I have an incurable sense of adventure and wanderlust. I mean, nothing rivals the thrill of chasing the horizon. Unfortunately though, I haven't won the lottery and money will never grown on trees [no matter how I might persist]. So, for the time being, when I need to escape the realities of adulting, all I need to sate my wanderlust is a good book.
If you have been following my little blog, you'll also know that I'm all about the world building. I love how a good setting works to elevate the overall mood and tension. Nothing beats the draw of an eerie moorland, murky rivers, a wind-swept coastal town or even a ruthless, Tolkien-like fantasy world.
So, in celebration of immersive settings that transport us to alternative realities I decided to create my very first tag – The Wanderlust Book Tag. And, you guessed it – it's all about dense world building and atmospheric settings. So, let's get this tag started…
☆ Mention the creator of the tag and link back to original post [Alexandra @ Reading by Starlight]
☆ Thank the blogger who tagged you
☆ Answer the 10 questions below using any genre
☆ Tag 5+ friends
1.  Secrets and lies: a book set in a sleepy small town
When it comes to atmospheric small towns that I'd love to explore there's only one that springs to mind instantaneously; Forks, Washington. Nothing says sleepy town with a dark secret more so than Forks, who's constant cover of cloud and rain makes for a perfectly damp, bleak and mysterious setting. Then you've got the surrounding forests – I could just picture the blanket of fog over the mountains and the eerie sense of isolation.
2. Salt and sand: a book with a beach-side community

Nothing screams summer like Jenny Han's splashy, sun-kissed Summer Trilogy. The perfect pool-side companion, The Summer I Turned Pretty is one of my favorite destination reads. The way Jenny paints Cousins Beach… you can practically taste the salt on the ocean breeze. What makes Cousins so perfect though is Susannah's beach house. This house just feels like home. It's big and sprawling, painted white and grey. You can practically hear the squeaking floor boards and feel the sand underfoot as you turn the page.
3. Here there be dragons: a book with a voyage on the high seas
Voyager is without a doubt, my favorite installment [so far] in the Outlander series. I mean, Claire and Jamie go on an epic quest to the West Indies. And, it doesn't get much more adventurous or exotic than the West Indies. You know – packed with danger, swashbucklers, scoundrels and pirates in the infamous topical Caribbean. After securing passage on the Artemis, swells and sea-sickness is the very least of their worries. Jamie and Claire must survive an epidemic, a deserted island, a maelstrom and even a shipwreck.
4. Tread lightly: a book set down a murky river or a jungle
The Song of the Current is an epic adventure down the world of the Riverlands. This is such an underrated duology with such a sensory setting. The Riverlands are basically a network of dark, murky rivers and jungles separating two kingdoms. These rivers are dotted with shabby port towns, marshy lakes and causeways that provide a home, as well as a smuggling route for the wherry folk. While this is a strong debut, it's really the immersive world building that takes center stage.
5. Frozen wastes: a book with a frost bitten atmosphere
Even the Darkest Stars is just as immersive and atmospheric with it's brutal, snow capped mountain empire and Himalayan-esque wilderness. This story was actually inspired by the early explorers of Mt. Everest so you can expect a whole lot of adventure and fellowship as we follow our protagonist, Kamzin who joins an expedition to the summit of a danger riddled mountain. Raksha is plagued with perils. There's the constant threat of exposure, but also avalanches, chasms, blizzards and even dragons.
6. The boonies: a book with ruff or isolated terrain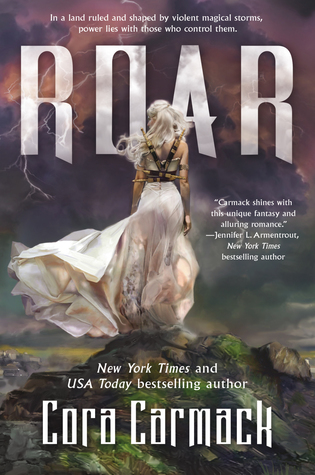 Have you ever come across a more ruthless setting than that of the wildlands of Caelira? In Roar, the land is plagued by violent tempests and magical storms. Enter a rouge band of storm hunters and you have the makings of an epic twister-esque quest across the wildlands. The wildlands are the unclaimed territories beyond the main strong holds of the kingdoms. It's ruff, brutal terrain that's ravaged by fierce storms that have the power to obliterate villages. Level of brutality: impaled by a tree branch.
7. Hinterlands and cowboys: a book with a western-esque setting
Perhaps one bookish setting I'm desperate to explore is that of the House of Night and the heart of  Midtown Tulsa, Oklahoma. Though House of Night is a paranormal series, it's very much grounded in reality. The characters, vampyre and human alike frequent popular haunts such as Cascia Hall, Utica Square, the Philbroke Museum and even the mysterious prohibition tunnels of the Train Depot. The authors, being Tulsa natives, really capture the heart and soul of Oklahoma as well as the strong sense of Indian and western heritage.
8. Look lively: a book set across sweeping desert sands

Appropriately titled, there was no way we were going to make it through this list without mentioning the sweeping history of Passenger. Passenger doesn't limit it's plot to just one immersive setting. We follow our protagonist Etta through pivotal historical moments as we go on what is basically a treasure hunt through time itself. My favorite setting, and perhaps the most immersive, is the blistering exotic deserts of Damascus. Along with Etta, we explore a bustling 1500s market [talk about Aladdin vibes] before  travelling by caravan camels to the ancient tombs and ruins of Palmyra.
9. Wild and untamed: a book set the the heart of the woods
Sarah J. Maas is the almighty queen of crafting sweeping worlds but I just adored the expansion and the Middle Earth vibes of Wendlyn and Doranelle. My favorite place on the Eastern Continent? Mistward – the last outpost of the human lands and the doorstep of the demi-fae. Mistward is a fortress-like proving ground who's atmosphere and sensory feel just completely sweeps you away. I could hear the hustle and bustle of the kitchens, I could smell the camp smoke, I could feel the damp cold in my bones and taste the pine on the mountain air.
10. Wildest dreams: a whimsical book shrouded in magic
There has never been a more whimsical setting to rival that of the Le Cirque des Rêves; a magical circus of illusion and mystery that opens only at dusk. A magical labyrinth painted entirely in shades of black and white, this night circus, with it's steampunk and Victorian fashion is romantic and enchanting, a world beyond your wildest imagination. While the circus is a beautiful fantasy, the pages drip with sensory and lyrical prose that sweep you away into the madness and magic. The scent of caramel, candy apples and popcorn permeates every page and leaves you dazed and mystified.
☆ Trisha | The Tea Reader
☆ Brianna | Brianna The Bookworm
☆ Luna | Bookish Luna
☆ Kay | Hammock Of Books 
☆ Siobhan | Siobhan's Novelties
☆ Jess & Teagan | Fiction No Chaser
☆ Annie | Dreaming Of Cats
☆ Claire | Cup Of Books
☆ Aline | Fully Booked
☆ Monika | Lauregalie