Father forgive me for I have sinned…
Confession: I may-have-sort-of out grown Taylor Swift…??? *Braces for the oncoming mob and pitch forks*. I was obsessed in high school, I bought all the albums and then the Reputation era began and I just kind of missed the hype. And it's not just Taylor Swift –  I basically outgrew pop music as a whole. I'm more of a indi-rock, Lana Del Rey kind of girl.
That being said, I am a firm believer that 1989 was Taylor's best album and I can definitely still appreciate the pop princess. That and the fact that when your girls Nish and Ngoc create their very own original tag and your bestie Siobhan tags you how can you not jump on-board the band wagon?
So a shout out to my girls over at Nish & Ngoc's Book Nook for creating this tag and a big hug and lots of love to Sibby from Siobhan's Novelties for the tag. ❤ ❤ ❤
Also: favorite Taylor Swift song??? Wildest Dreams!
[Can we please get a Hollywood epic based on the concept of the music video already?!?]

☆ Link back to the original creator of the book tag
☆ Thank the person that tagged you and link to their post
☆ TAG AS MANY SWIFTIES AS YOU WANT! (Or non-Swifties, maybe inspire them to listen to our Queen)

1. I Forgot That You Existed: A book that you want to forget you ever read
I think we all know why we're here by now… No? Okay, let's spill the tea *rubs hands together*. Here's what you need to know: Wintersong is a Labyrinth retelling, I am a HUGE fan of David Bowie and The Goblin King is THE anti-hero. I wanted an epic adventure with romance, instead I got pretentious Labyrinth smut. Wattpad quality smut. NOT here for that. The world didn't need a 50 Shades of Labyrinth. #notmygoblinking.
Ready for the full, in-depth rant? My salty AF review Can be found here.
2. Cruel Summer: A book you turn to when the going gets rough
Anne of Green Gables is the definition of a comfort read. It's heart-warming and pure, basically this book will envelope you in a blanket of joy and nostalgia. That and the fact that I literally recommend it to every man and his dog. Depression? Anne of Green Gables. Anxious? Anne of Green Gables. Lonely? Anne of Green Gables. Living you're best life? Anne of Green Gables.
Need further convincing? I rave all about my unconditional love here.
3. Lover : Your book OTP
One??? Just ONE? *Whines* But there are too many…! Fine. Gun to my head: Feyre and Rhysand from A Court of Mist and Fury. Feysand are the epitome of #relationshipgoals. I mean, their banter is both sexy and legendary, the tension is unreal and let's just say that they get pretty dang steamy. [Chapter 55 anyone???]. But, steam and tension aside, their mutual respect and devotion to each other is the real MVP of ACOMAF.
4. The Man: Your fave kick-ass female protagonist
The Song of the Current duology is criminally underrated and I will never not rave about it. First of all; Caroline is a non-conformist in a man's world. The definition of kick-ass, Caro is feisty, strong willed, highly capable and more than able to hold her own aboard her wherry. Secondly; Song of the Current is set along a network of murky riverlands with pirates. #enoughsaid.
To hear me rave and rave about the world-building, check out my review here.
5. The Archer: A book with good mental health representation
I loved Again, But Better mainly because of the fact that it centers around a twenty-something still struggling to get her shit together. I mean, show of hands if you too still feel like a mess. *raises hand*. Then there's the fact that Shane is introverted, awkward and socially anxious. I related hard to Shane's plaguing self-doubt and the way she over-analyzed literally everything. 
Wondering if it's worth the hype? Read  the good and the bad here.
6. I Think He Knows: Your fave fictional crush
Can I say Edward Cullen??? I'm gonna say Edward Cullen. #twilightrenaissance. Look, problematic relationship and flaws aside, Edward Cullen was my first fictional crush and come on, you know what they say about your firsts… I had just started high school when Twilight blew up. The hype was unreal and I refused to buy into it. Then my best friend literally sat me down and forced me to read her movie-tie-in edition and my jaw hit the floor. Let's just say I never looked back and practically doodled Edward's name all over my diary. Didn't we all???
7. Miss Americana & The Heartbreak Prince – Fave angsty romance

The first thing you need to know about After is that it started off as fanfiction. A Wattpad fanfiction at that. Once you get past it's humble beginnings, After is a seriously addictive, trashy romance dripping with sexual tension and steam. So yeah – it's not award winning literature. But, at the same time it's not just pure fluff either. After is actually a dark novel, dealing with some pretty intense subject matter. Full of angst and melodrama, After is a close look at the vicious cycle of abuse.
My in-depth look at fluff vs substance can be found here.
8. Paper Rings – Book with an ugly cover that you absolutely adored
Honestly? I don't hate the re-design of the Vampire Academy covers. But, I know so many people loath them. That being said, both the cover and the title "Vampire Academy" doesn't inspire much and it's not a true reflection of the kick-ass characters inside. Don't let it fool you – even re-reading as a twenty-something, Vampire Academy kicks ass. A story about the bond between blood sisters, Vampire Academy is layered with wit, snark and plenty of humor. And, just in case you were wondering, there are plenty of steamy scenes…
Full review can be found here.
9. Cornelia Street – A book or series you never want(ed) to end
Can I just freaking live inside this book already??? I mean Sorcery of Thorns consumed me. 110% recommend. Basically you have a sword brandishing, feminist protagonist, a swoon-worthy love interest and enchanted libraries that house evil books which, when provoked, turn into monsters. And oh yeah – there's also demon butlers who turn into cats. Need I go on???
You can see why Sorcery of Thorns is my new favorite here.
10. Death By A Thousand Cuts – A book or series that deserved a better ending
Okay, don't get me wrong here, I adore The Phantom of the Opera. I stand by my opinion that EVERYONE should read it. That has nothing to do with the fact that I'm in love with Ramin Karimloo. The Phantom of the Opera is a doomed romance. Christine becomes the object of Erik's obsession and we witness his decent into madness as he desperately tries to possess her heart. Once, just once, I'd love to crack open this gothic classic and read an ending where Christine goes back for Eric.
11. London Boy – Your fave British male protagonist
This late in the game, we all know Will Herondale is the fan-favorite brooding London boy. I never could get 100% on-board the Herondale train but Stalking Jack the Ripper's Thomas Cresswell could sure as heck give Will a serious run for his money. Thomas Cresswell is sinfully handsome and bold with a sharp wit to match. He's also incredibly cocky and arrogant. Hello sexual tension! If Thomas doesn't set your cheeks aflame I'm not sure what will.
12. Soon You'll Get Better – A book that your heart will never recover from
Once again, I threw my TBR to the wind so I could pick up this sinfully addictive Rom-Com. As you do. But, it's a good thing I did pick up The Hating Game because let me tell you; I freaking LIVED for it. The Hating Game seemed to be all over my feed and with good reason. This book followed me everywhere as Lucy and Josh went from tense work nemeses to swoon-inducing lovers. I honestly don't think I'll ever recover from this book and unfortunately for me, no romance could ever compare.
13. False God – A character you would leap into the burning pits of hell to save
Wanderer [Wanda for short] is The Host's too-pure-for-this-world protagonist and she must be protected at all costs. In true Invasion of the Body Snatchers fashion, Wanda is a soul, a parasitic alien who forms a bond with her resistant human host Melanie. Wanda is self-sacrificing, gentle yet resilient and incredibly strong. All I wanted to do was jump inside the pages and punch everyone who laid a hand on her once she joined the human resistance. Screw you Jared.
You can read my full review here – don't let Twilight put you off!
14. You Need To Calm Down – A book with a powerful message
The Martian is one of the most inspiring, powerful books I've had the pleasure of reading. On one hand, it's a classic survival story brimming with edge-of-your-seat suspense and a wisecracking protagonist. On the other, The Martian examines the spirit of humanity, saluting the conquests of space exploration. Not only is Mark Watney, botanist extraordinaire, seriously optimistic and determined but the diverse cast of supporting characters on the ground help create this sense of community.
If you want the tediously long look at just how inspiring this book is, feel free to check out my review here.
15. Afterglow – A book you want to give a second chance
Like Wintersong, The Cruel Prince is a book that rears it's head in every tag I do. Probably because nothing could compare to the soul crushing disappointment experienced. Everyone raved about the Cruel Prince. Literally everyone. Trashy, abusive and bland, I didn't buy into the hype. That didn't stop me from buying The Wicked King. Because I'm still convinced I read the wrong book, eventually I'll get around to given Jude and Carden another chance.
16. ME! – Best character development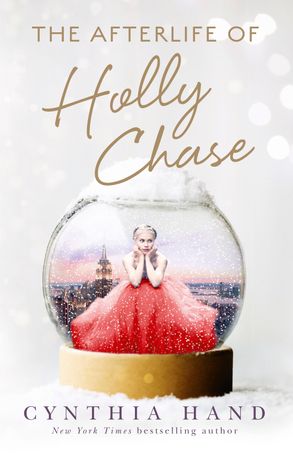 Considering I re-read The Afterlife of Holly Chase every Christmas I should probably get around to actually reviewing it… A contemporary retelling of A Christmas Carol, Ebenezer Scrooge Holly Chase is selfish, vain and deliciously vindictive. She's also dead. Serving eternal punishment for ignoring the three ghosts, Holly is now the Ghost of Christmas Past, working for Project Scrooge. Considering that this book is super Rom-Com-y, Holly's journey of self-discovery is actually pretty deep and you can't help but root for her second chance.
17. It's Nice To Have A Friend – Fave friends-to-lovers story

Anna and the French Kiss is pure trash and I love it. The epitome of YA Rom Coms and of friends to lovers, Anna and Étienne will leave you swooning. Set in Paris, Anna and the French Kiss is full of romantic near-misses and sizzling tension. Étienne is off limits but that doesn't stop what starts as a beautiful friendship blossoming into something more. Also their adventures around Paris had me feeling all the wanderlust. Can somebody just take me to Paris already???
18. Daylight – If you could only read one book or series again and again, what would it be?
I mean, did you honestly think it would be any other series??? Throne of Glass is my favorite fantasy series and no other book has come close. Every time I re-read this series I always pick up some precious little nugget of gold that I somehow missed the first fifty times around. What starts out as an assassin's struggle for freedom evolves into a much wider scope, encompassing an entire world of complex characters and richly woven cultures. Beware though – this series should come with a hangover warning.
Also, I am of the opinion that my reviews for the Throne of Glass series are some of my best. I guess that comes from reviewing your favorite books??? Anyway, you're welcome to check them out, starting with the prequel the Assassin's Blade here.