In true Reading by Starlight tradition, and today being Valentine's Day *cough, cough Singles Awareness cough*, it's time to celebrate the season of love with yet another list of fictional couples. Let me tell you, this one's going to be a fun time. And may or may not be the result of too much red wine.
Animated crushes. Don't sit there and pretend you have never been sexually attracted to one because – lies! Look, it's not something to be embarrassed or ashamed of. Fact: animated characters are Hot™.
Anyway, what I'm getting at here is although we're officially talking about my favorite animated couples probably 70% of this post is just me lusting after animated men. As you do. Be prepared for some ogling and side-tracking. You have been warned.
Let's get weird. Remember – judgement free zone. 😉
1. Ariel & Prince Eric – The Little Mermaid
"I lost her once – I'm not gonna lose her again"
To my younger – strictly G-rated – self, Ariel and Eric were the couple. I was completely obsessed and dreamy-eyed over these star-crossed lovers. Not to mention that I can 100% credit The Little Mermaid for my seriously unrealistic expectations of men. Six-year-old me was practically slayed by the combination of Eric's dimpled smile, those baby blues and that hair. He has that superman look down. All I'm saying is that whoever animated Eric knew what they were about.
2. Anya & Dimitri – Anastasia
"Princesses don't marry kitchen boys"
I will never stop shipping Anya and Dimitri – the Broadway musical has only confirmed that they are actual relationship goals. Okay, I get that Dimitri is a bit of an ass but I mean the bickering, the banter, that sexual tension… #stickaforkinmeimdone. The whole conman/princess thing never gets old – the moment he realizes that she's the real deal gets me every time. And honestly, as far as animated characters go, Dimitri is one tall drink of water. Shame who?
3. Jane Porter & Tarzan – Tarzan
"Jane… Stay"
Right off the bat we need to address the elephant in the room – Tarzan's physique. I mean, the man is ripped. If mussels are your thing than Tarzan is your guy. Anyway, of all the couples listed, Tarzan and Jane have to take the cake for sweetest couple. They are just so pure, so innocent. Tarzan has this intensity about him but he's so gentle and unsure with Jane. It gives them some seriously swoon-worthy chemistry. I just want to know when we're getting that live action re-make already!
4. Clara & Prince Eric – Barbie in the Nutcracker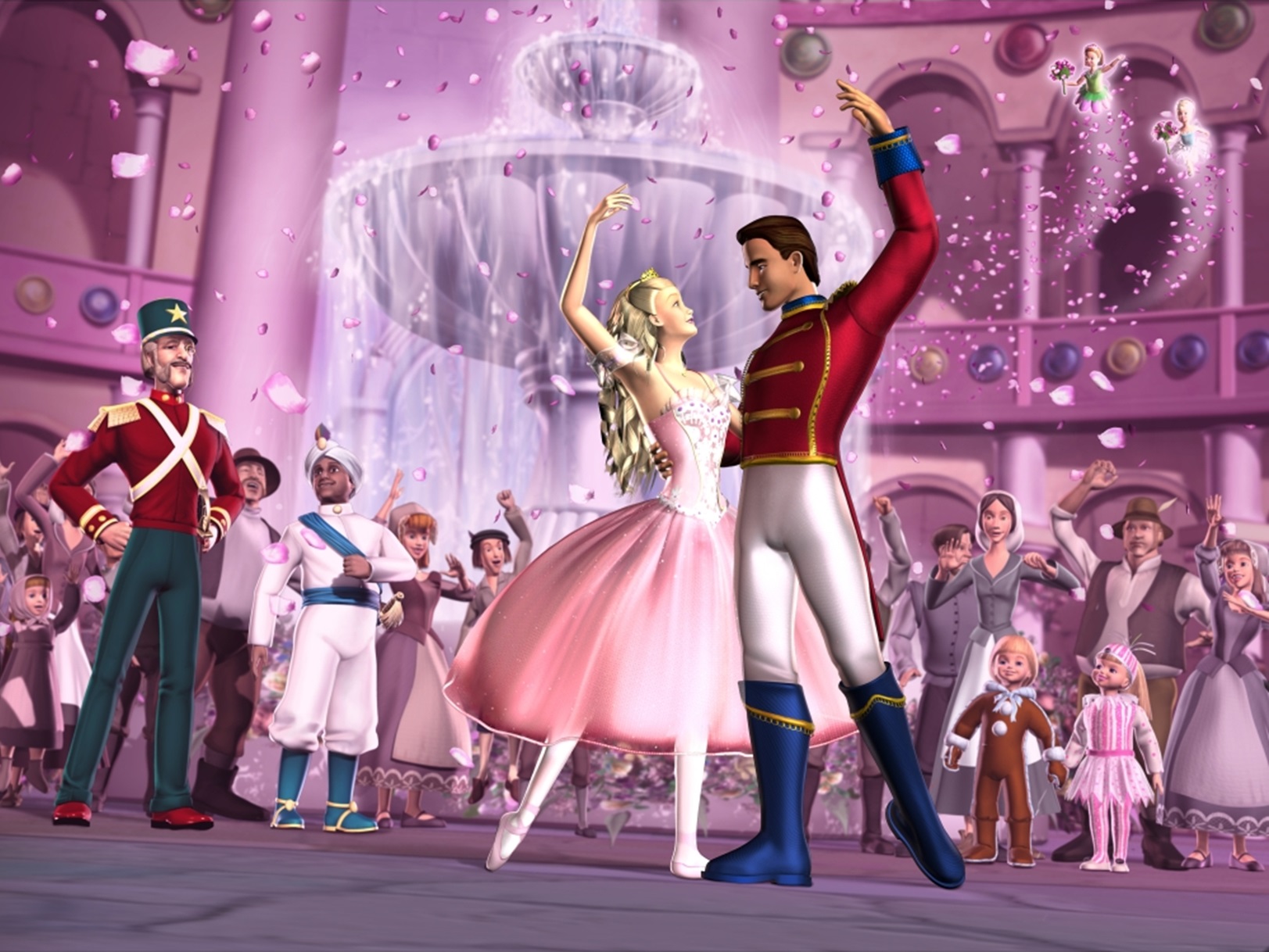 "This locket was supposed to take me home but in my heart, I feel I'm already there"
Barbie in the Nutcracker will always be one of my favorite movies – I still watch it every single Christmas. Clara [Barbie] and Eric [the Nutcracker] is the Barbie pairing. Their romance is one of enchantment, adventure and innocence – the stuff of ballet dreams. That scene where they dance the Nutcracker Pas de Deux gets me every time. You know that shot when the music swells, he sweeps her up into a lift and the Mouse King's spell is broken? Chills. Side note: that ending broke my heart – the music, that anguished "I love you". Again, chills.
5. Bloom & Prince Sky – Winx Club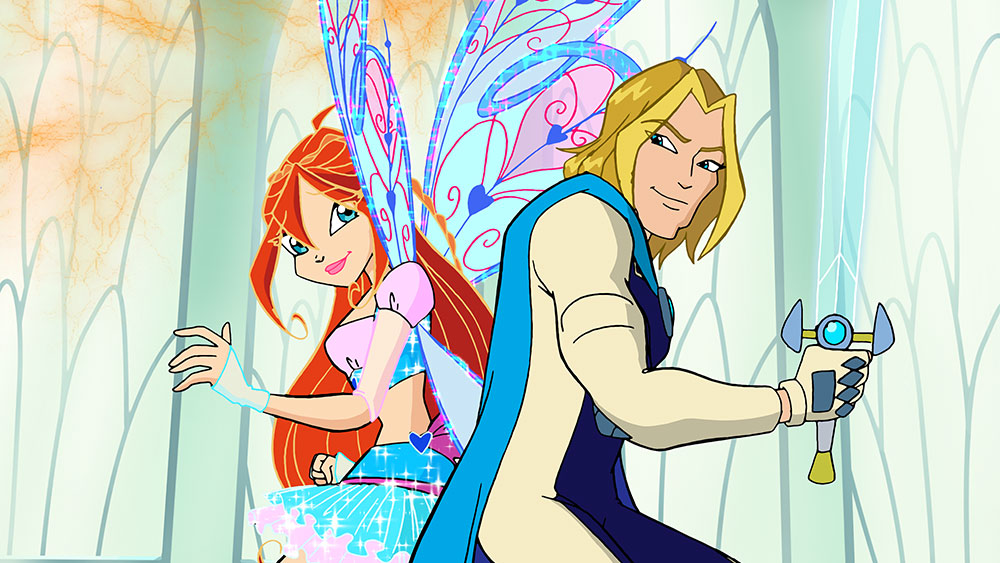 "Great. Now he's gonna see I've called twice and I still don't know what to do"
My childhood basically consisted of me, weary and beady-eyed, watching Winx Club on Toasted TV before school. Who didn't start their morning with the Winx girls??? There was always someone to save, a baddie to beat and, of course, the iconic 2000's fashion. That being said, what made Winx Club so addictive was the boy drama. Bloom and Sky [such a babe] were THE Winx couple. Their relationship was all drama – with secret identities, parent drama and a jealous ex-fiance scandal that left us SHOOK. Pre-teen me practically lived for Bloom and Sky.
6. Pocahontas & John Smith – Pocahontas
"I'd rather die tomorrow than live a hundred years without knowing you"
I have no shame in admitting that, as a grown-ass-woman, I am still 110% attracted to John Smith. He is a certified babe. Like, that jawline could cut me in half. Twice. #chiselledbythegods. And don't even get me started on Mel Gibson's rich, almost gravel-like voice… You know what? Pocahontas can have John Rolfe. John Smith is "mine, mine, mine!" – see what I did there? Anyway, I know that Pocahontas takes some serious historical liberties but I still think they are the epitome of Disney couples. In an alternate reality, John Smith came back for her and they lived happily ever after.
7. Princess Odette & Prince Derek – The Swan Princess
"I love you for your kindness and courage, I always have"
I mean, I just wouldn't be a 90's baby if I didn't count Derek and Odette from the Swan Princess on this list. Now I know what you're thinking. Is the animated dated? Yes – very. Is Prince Derek a serious douche? See: How To Offend Women In Five Syllables or Less. Do I still love them? You bet. Say what you will about the grainy AF animation [we can't all be Disney] but the classic childhood-enemies-to-lovers romance is everything. Derek proving his everlasting love, that sweeping music – it's the stuff of swoons.
So, who is the ultimate animated ship or OTP? Now that I've spilled all my secrets I want to hear from you – who's your not-so-secret animated crush? Let's talk in the comments below!