Beware – Major Spoilers [Basically The Entire Book/Series]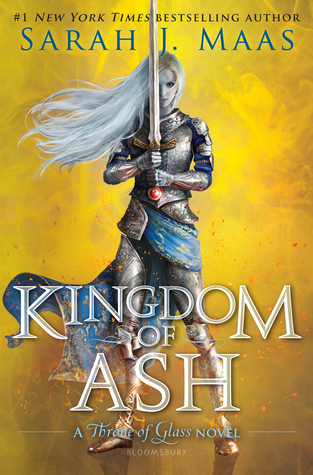 First off – In the off chance that you some how missed the title of this post [and the spoiler warning above]: If you haven't yet finished Kingdom of Ash then what are you even doing here??? This post is so not for you. I mean, unless you want to have all the spoils spoiled – which I do not recommend.
This is a wine induced post packed to the rafters with spoilers, snark and even a few profanities. These are my honest to God thoughts while experiencing Kingdom of Ash for the first time. (I literally had a note book with me so I could rant and rave with you guys after the fact.). Nothing will be off the table so if you haven't read Kingdom of Ash and need the motivation, you are welcome to check out my spoiler free post and more coherent review here.
Everyone else, let's talk about the mess of pain and feels that was Kingdom of Ash. Feel free to let me know you're own opinions – both popular and unpopular – in the comments below. Let's get into the snark:
FINAL WARNING – HERE THERE BE SPOILERS. PRETTY MUCH THE ENTIRE BOOK. INCLUDING THE ENDING AND MAIN PLOT TWISTS. READ AT YOUR OWN RISK.
I'm sitting in a dimly lit coffee shop in Melbourne, sipping my pumpkin spice latte – my soul is officially ready. I have chocolate and tissues – basically all the required SJM basics.
HERE WE GO… #ripmysociallife.
"The Prince" and "The Princess" – literally 6 (6!) pages in and I am officially done. #ripmysoul.
"Part One: Armies and Allies". let's wage us a war to end all fantasy wars. (Apologies to ACOWAR).
AWWWWW IT'S BEEN 2 MONTHS??? MY POOR BABY AELIN!
Aedion what the actual f***??? Why!?!
Okay – I know he's hurting but my ship is taking on water. Fast.
Evangeline and Lysandra are everything.
Ren Mr. Steal Your Girl Alsbrooke.
Okay – I was only joking about Ren. Get the f*** off my ship – who even gave you permission to board it!?!
It's my girl Elide with the Cadre! Yas queen – SLAY!
I seriously can't even read these freaking torture scenes. I mean what the hell Sarah? As if Sam wasn't bad enough now we have to watch freaking Aelin???
My eyes are watering.
All I'm saying is that is Aelin gets freaking rapped by Cain I'm done.
I need my fire-breathing-bitch-queen to be okay. This is agony!
Okay – hear me out. I propose that ass-tard Hollin takes one for the team and offers himself up on a silver platter to the gods. I mean, even Gavin agrees with me! I'm sure the entire fandom will second the motion.
Dorien camping in the mountains with the Thirteen is the narrative I never knew I needed.
It's official – I've shed my first tear! Bring on the water works.
I didn't last long at all.  But chapter 5. Man, that sh*t had me brawling. I mean – Rowan's dream! Then the way he looks to the Lord of the North, a pararel to Aelin!!! I. Just. Can't.
Maeve has got to be a spider. Just saying. Sarah can't drop all these little "spider's smile" quotes and then not have Maeve be one. Right?
OMFG!!! IS YRENE PREGNAT???
These spiders again! This has to be a big thing!
Okay, is it just me but I kinda want Cyrene to be on the #goodteam.
OMG! It's NOX!!! This arrogant AF messanger is my man Nox! YAS!
"You have been very brave, for so very long." I'm not crying – you are.
"You do not yield." Someone pass me a box of tissues. There's snot everywhere. Sh*t. That was… I mean – sh*t.
Okay – theory time! I really feel that Nox is going to bring down Lysandra and Aedion's game. Nox and Aelin have all that history and Lysandra (as Aelin) won't know him! This could potentially be bad…
I KNEW IT! I knew Nox would figure it out!
At least the game isn't up yet.
SH*T. SH*T! THE VALG KNOW IT'S NOT AELIN! THIS IS BAD! THIS IS SO, SO BAD!!!
Holy f*** that was hilarious. I mean the army – the whole dang army right from underneath their noses! Classic. *cries*.
Awww, but I wanted to see Darrow's face.
Here we go… let's get it done because Lysandra and Aedion need some help up in the north. Aelin needs to get to Terrasen. Stat.
Also this whole thing with Fenrys and the blinking… *sobs*
And Aelin giving up hope that Rowan will come for her – hold on he's coming! HE'S COMING!
Actually – what is up with their mating bond?!? Why can't they use it like FEYSAND to communicate? I'm just saying it would have made all this a lot easier.
I have just snot-cried for five chapters straight. That was executed perfectly – there are just no words to describe the utter pain, emotions felt. But the part that shattered something deep inside? Three little words that actually killed a small part of my soul? "Take it off" I don't think I'll ever be able to hear those three words again without screaming and curling up into a ball.
Also I don't know how I feel about Maeve taking her scars… I mean – I cried so hard at that! Those scars made Aelin who she was. It was her tale of struggle and survival and Maeve took that from her – the proof that she went through hell and lived.
I love how Sarah brought back Kaltain. Everything is coming full circle. Also, Dorien apologizing and kneeling before Kaltain was the closure I never realized I needed.
Get your shit together Aedion!
CHAPTER 56 WAS EVERYTHING. I mean those witches got what was coming to them… Even if I'm a little disappointed that Mother bitch ass Blackbeak isn't a rotting corpse.
Okay, I've just got to say it but Chaol's father is an actual asshat. Can he just die already? Please?
I just love how they totally just go about plundering the joint. First in the Fae caves of Wendlyn and now from Anielle. #noshame.
Elide racing across the front to get to Lorcan is just everything. I knew they'd figure it out! Elide and Lorcan, amongst Choal and Yrene and, of course, Aelin and Rowan are my OTP.
Dang – all that power…
That asshat hid Chaol's letters? Are you serious right now??? Can we please just get a freaking Valg prince up in here already? I mean, why is he actually still breathing???
"Terrasen calls for aid!" – All the chills and all the Mulan and LoTR's vibes! ("Now all of China knows you're here" and "Gondor Calls for Aid!")
"Aelin lit the way north." YAS! Get your freaking asses up to Terrasen stat. Aedion and Lysandra need you!
Honestly I'm feeling so betrayed by Dorien's narrative right now. (Chapter 71, 73 and 74). I mean what the actual hell?!?!? Why are you humouring an alliance with Maeve?!?!? THAT BITCH JUST TORTURED AELIN! WHAT THE F***, DORIEN?!?!?!
Lol – I see what you did there! I approve. F***uck you Maeve.
I think that was such a beautiful scene, Yrene offering to heal Elide's foot (do I smell a spin off tale of healing at the new Torre in the north???) but I'm not sure how I feel about it? I mean, like with Aelin, in the series scars play a huge role. I kind of love how Elide is like this quite badass, bad leg and all. But, Sarah, I'll give you the chance to change my mind.
What my squad does to Vernon in the Ferian Gap was so dang satisfying.
Lysandra, Aedion and Evangeline are actually #familygoals. I mean, Aedion's speech has just redeemed him completely.
YAS MANON IS HERE TO SAVE EVERYONE"S ASSES!
"Let's make this a fight worthy of a song". I'm done.
I am 100% here for some Elide/Lorcan smut.
Iskra's still alive??? Can Manon just freaking kill this bitch already?
WHAT? NO! NOT ABRRAXOS!
OMG YAS! PETRAH YAS!
"For Keelie".
Thank the Gods Abrraxos is still alive. I think a part of me would have actually died if Sarah had killed him off. I'd be out for blood.
WAIT WHAT?
AESTERIN? NO!
…
I AM NOT OKAY
I AM STILL NOT OKAY.
THE THIRTEEN…
I CAN'T. I JUST – CAN'T.
It's 6am and I can't handle this shit right now. I mean what the f***??? I figured I'd read two chapters – TWO FREAKING CHAPTERS – before work because I was like "hey, nothing bad could possibly happen to my babies in the span of two chapters!". THEN THE F***ING THIRTEEN DIED. YEILDING IN LIGHT.
Jsageffishfgniuwegofnkmjas;dfgwifsaHWE[PDJDHFSGNA;DFJGHODASDJm;fh
Okay, I know I'm still grieving but omg DORIEN AND CHAOL RENUION! YAS!
IT"S TIME TO FORGE THE LOCK. I have chills.
Can we please just take a minuet to appreciate that Aelin, Dorian and Chaol are standing, ready to forge the lock and sacrifice Aelin and Dorian and they are standing in Endovier. WHERE IT ALL BEGAN. That is some seriously powerful story telling.
I love how Aelin is giving us a moment to appreciate just how far her character arch has brought us since seeing her chained as Celaena Sardothien in Throne of Glass. I mean the goosebumps are real.
"Nameless is my price". I KNEW IT! I KNEW HE WASN'T GIVEN A NAME FOR A REASON!
"A world of snow-capped mountains under shining stars. Passed over one of those mountains where a winged male stood beside a heavily pregnant female, gazing at those very stars."
OMG IS THAT ACTUALLY FEYSAND AT STARFALL??? #cameo.
DID RHYSAND JUST SAVE AELINE?!?!
AND – BETTER YET – AELIN THINKS RHYS IS "beautiful beyond reason". I AM SHOOK.
I'm going to be honest here. If you take out the ACOTAR cameo, the whole –forge-the-lock-thing was really underwhelming. I mean, I knew she wouldn't die. We have another 200 pages to go. Considering the keys and gate were such a huge part of the narrative am I alone in being disappointed of the fact that that was it???
I don't know how I feel about Aelin having to sacrifice her mortality… Like the scars, that makes me sad… I don't know why??? And her magic.
The Lord of the North… I'm crying. FULL CIRCLE.
"So I would choose to fight. Until the very end. For my home, new as it is." A LITTLE LOUDER FOR THE PEOPLE IN THE BACK!
YAS! REUNION BABY – THE QUEEN HAS COME!!!
"The queen had come home at last. The queen had come to hold the gate." #allthechills.
Less than a hundred pages to go and I have no tears left to cry. This book… Gods this book is EVERYTHING. I am so ready for the end but at the same time I can't let these characters go. Fingers cross for a happy ending and a better world.
LET'S DO THIS SH*T!
OMFG – the King's name was Dorien!?!? I'm not sure how I feel about that one… Though I am loving his redemption arch!
Also I do love how Aelin finally learns to share the burdens and that it's Yrene who defeats Erawan. It just works to further highlight that this series while still heavily focusing on Aelin's narrative has become a lot bigger than just an Assassin fighting for her crown.
Silba's ring (or Athril's ring) is back. I love how all these tools, like the Eye of Elena were there all along.
DING DONG THE BITCH IS DEAD! WHICH OLD BITCH? THE WICKED BITCH!
"Lord Lorcan Lochan" I'm dead.
The Terrasen Court in the private garden and their banter is everything.
"At least this court won't be boring" #notruerwords
It's actually so bittersweet to finally see Aelin walk into the palace and then to be crowned its queen after all these years and all these books. I mean – Queen of Shadows and Empire of Storms gave us a tease but these it just… There are no words.
AWWWW I CANT READ THIS – THE GOODBYES AS THEY ALL HEAD OFF ON THEIR OWN DIRECTIONS. I AM A MESS.
I really don't ship Manon and Dorien. I swear Manon is actually a lesbian – Dorien could never make her happy. It's lust – not love. #sorrynotsorry.
The original trio… This is the most bittersweet of all. I NEED MORE BOOKS.
Okay – there are so many potential plot lines here for a continuation! I mean can we please make this happen??? Give us some spinoffs!
That closing image of the Kingsflame.